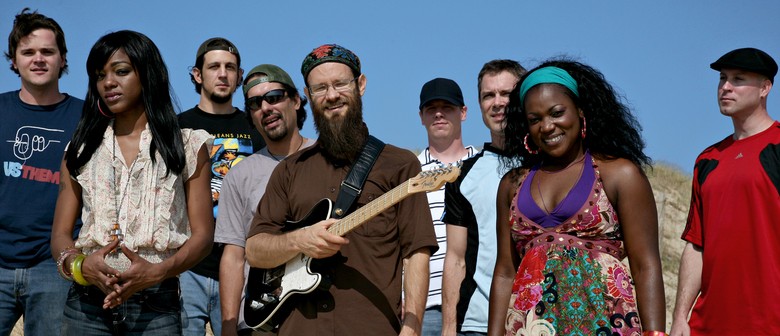 "If you don't know your past, you don't know your future" - a statement that Groundation's music captures fully! While capturing the essence of true Roots Reggae, the internationally acclaimed Groundation aims to take the art of genre-bending to new heights by blending elements of Jazz, Funk and transcendental Dub in their progressive amalgam of sound – some call it Progressive Reggae.
The band derived its name from the "grounation," the Rastafarian ceremony of the same name. Grounations are ancestral Rastafarian gatherings aimed at reaching a common vibration through the positive power of prayer and music - something that the band shares with its fans at each concert. Groundation may be based on an ancient tradition, but it is an idea for today.
Groundation was founded in the fall of 1998 when three long time musicians Marcus Urani (organ/keys/piano), Ryan Newman (bass) and Harrison Stafford (guitar/lead vocals) met in their jazz program at California's Sonoma State University to form the core of Groundation's style and sound. Over the years, the band grew to become a 9 piece band including a Jazz horn section, several percussion players and Jamaican background singers.
Groundation self-released their debut album, "Young Tree", on their own Young Tree label in 1999. "Each One Teach One" followed in 2001. The disc featured guests Ras Michael and Marcia Higgs. "Hebron Gate", released in 2003, included Reggae legends Don Carlos and the Congos as special guests. Don Carlos appeared again on their follow-up album "We Free Again" (2004) along with Apple Gabriel. In 2005, Groundation released the dub album "Dub Wars" then another studio album "Upon the Bridge" in 2006. From 2006 until 2009, the band engaged on its most ambitious touring schedule, headlining several renowned festivals such as Summerjam and Rototom. Over the past few years, Groundation played in over 30 countries on four continents. Groundation is not only Reggae's most forward-looking band, they are a true movement. With the release of "Here I Am" in 2009 and a compilation of their best collaborations appropriately called "Gathering of the Elders" in 2011, it is fair to say that no other band today is playing music like Groundation. Whether on their masterfully self-produced studio albums or in the midst of their now legendary live-performances, Groundation's sound is both uncategorizable and yet somehow familiar. Whether a fan of Jazz improvisation, the deep grooves of Funk and Dub or the challenging consciousness of Roots Reggae, Groundation offers a point of contact to connect to the music.
After their 14th and most extensive worldwide tour to date, Groundation will release their first studio album in two years, entitled "Building An Ark," on March 27, 2012 via Dub Rockers/VP/Universal Music. This will be the first release off Dub Rockers, the new imprint from Reggae giant VP Records. On this album, lead singer Harrison Stafford's develops his dream and vision to create an ark in order to preserve knowledge and positive consciousness. The band stays true to the essence of their dynamic and "melting pot" sound. Without guest artists, the group focuses on stretching their incredible virtuosity through 10 songs played in their characteristic "progressive reggae" and mixing a powerful jazzy-reggae vibe with hypnotic funk-based rhythms. The album goes from earthy percussion based tracks to complex impressionistic Dub compositions and this sophisticated music bed provides the basis for some of Harrison Stafford's most fiery militant and conscious lyrics to date.
Past events by Groundation