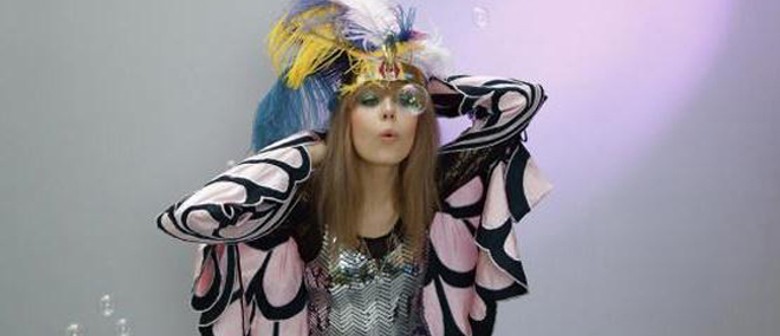 Ruby Frost presents a carefully crafted stage presence, complete with sequins and homemade costumes. Behind the attire and moniker lies the young, Auckland-based indie-pop songstress Jane de Jong, keen on music and creative writing.
Ruby Frost grew up in the world of Gospel choirs and international evangelical excursions thanks to her parents' associations with the Parachute Music label. A short story she wrote about an incident at an American church on one such tour received fourth place in the Katherine Mansfield short story competition one year.
Her self-penned songs have become a channel for her creative talents in more recent times. Paradoxically, the cute and kooky artist often writes and sings about the turbulent waters of relationships, infatuations and disasters. Explaining why she often dons such colourful costumes when performing, Ruby Frost says "I think you can sometimes be more honest about what's been going on when you use different mirrors to tell the story."
Ruby Frost produced a folk style EP in 2007 titled 'How Long'. Since then she has turned her music style upside-down and has shifted to creating synth-laden, infectious tunes. In 2009 she won the nationwide MTV 42Unheard competition, a live talent quest against 350 other hopefuls, and signed with Universal Music NZ to begin work on her debut album. By 2011 she had released her second EP, 'Odessy,' and followed it up with a tour of New Zealand's main centres.
Frost's vocals are reminiscent of Kate Bush, Bjork and Florence and the Machine, and her look is almost an amalgamation of the three. All in all, her songs and her style are charming, unique, danceable, and something a little different.