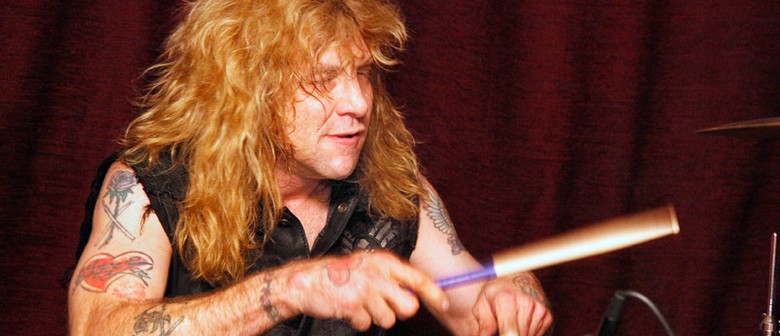 Website
Steven Adler, best known as the original drummer of "Guns N' Roses", one of the most influential, ground-breaking hard rock bands to emerge from the late-80′s L.A. hard rock scene, has returned to pick up where he left off.
GN'R's debut album, "Appetite for Destruction," which features Adler's signature groove, will forever be considered one of the greatest rock albums ever made. Adler also recorded the album "GN'R Lies" and the track "Civil War" on the album "Use Your Illusion 2." Following Steven's success with GN'R, he was involved in several other projects, including "Roadcrew" with front man Davy Vain and "Freaks in the Room" with Gilby Clarke. In 2002, Adler, along with other well-known L.A. musicians, formed what would later turn into the first incarnation of "Adler's Appetite."
In 2007, "Adler's Appetite" celebrated the 20th anniversary of "Appetite for Destruction" with a sold out show at The Key Club, where Duff Mckagan and Izzy Stradlin (original GN'R members) both jumped at the chance to jam with Steven on stage. Witnesses at the event hailed it as the closest anyone would ever see to an original "Guns N' Roses" reunion.
2008 saw Steven become a household name as the breakout star of the VH1′s hit series "Celebrity Rehab 2″ and "Sober House". Steven has made multiple appearances on Dr. Drew's nationally syndicated radio show "Loveline," and was an award presenter at the 2009 Pollstar Awards. Building upon that momentum, Steven decided to redefine "Adler's Appetite" and put together what both fans and critics have called the strongest line-up of the band to date.
"Adler's Appetite" consists of veteran and platinum selling artist Chip Z'Nuff (Enuff Z'Nuff), Rick Stitch on vocals from LA band "Ladyjack", Michael Thomas (Faster Pussycat), and guitarist Robo(Ladyjack). On January 17, 2009, the band made its debut to a maximum capacity crowd at The Key Club in Los Angeles. They were greeted with rave reviews and haven't looked back since.
Now, with the completion of two U.S. tours, a South American tour in 2009 and and a highly successful European tour with nothing short of a stellar response, "Alder's Appetite" is giving the fans what they want and breathing new life into the legacy that is "Guns N' Roses".
2010 saw Adler returning to "Celebrity Rehab 3″ as a special guest and the worldwide release of his first instructional drum DVD. Steven also recently contributed drum tracks to former "GN'R", current "Velvet Revolver" guitarist Slash's solo record. The track, which marks their professional reunion, also features Flea from "The Red Hot Chili Peppers."
In July of 2010 Steven released his tell-all biography "My Appetite For Destruction — Sex, Drugs and Guns N' Roses". The book quickly became a New York Times Bestseller. Adler's Appetite also embarked on an extensive tour hitting over 50 markets in North America alone. The band also debuted it's new single "Alive" on The Howard Stern show in July, Harper Collins then released it as an exclusive download in conjunction with the book.
The band rang in 2011 with the release of their Limited Edition European EP featuring all new original material. March found Adler taping fresh episodes of "Celebrity Rehab" and celebrating what he calls a "180 turn" in his life; according to Steven, his experience working with Dr. Drew and Bob Forrest was "even better than in 2008."
Adler's Appetite released two new songs, available for download on iTunes, titled "Stardog" and "Fading"--guaranteed to whet fans' own appetites for the band's next studio album, which is in the works. Not one to let the moss grow over his drum kit, Adler hits the road for a major North American tour on May 5, with a lineup featuring Michael Thomas on lead guitar, Lonny Paul on rhythm guitar, Chip Z'nuff on bass and Patrick Stone on vocals.
On May 17th, the paperback version of Adler's autobiography drops from Harper Collins, with select book signings to be announced. "I have the hunger to live again and rock again," says Adler. "I'm living the ultimate American dream--not only that, but I'm loving it!" - Official Facebook Page