HMS Pinafore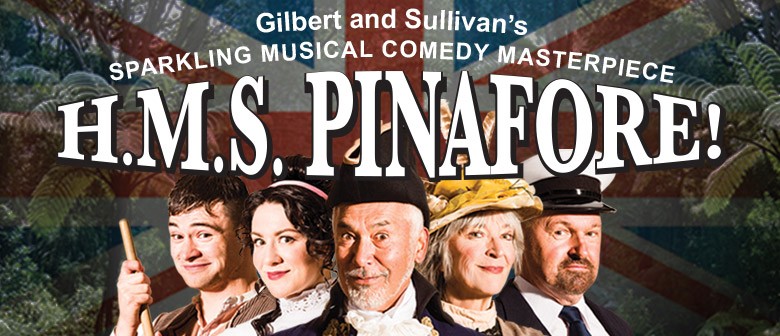 Gilbert & Sullivan's sparkling musical masterpiece HMS Pinafore will set sail around New Zealand in April and May 2016.
Produced by Ben McDonald who bought New Zealand classics including The Pirates of Penzance, Buddy and South Pacific in the past year, HMS Pinafore will play in 21 venues from the top of the North Island to the bottom of the South. Ahoy!
Directed by Geraldine Brophy, HMS Pinafore will feature a fine cast of singers, and star respected theatre veteran George Henare as Sir Joseph Porter, Helen Medlyn (as Buttercup), Tizane McEvoy (Josephine), Tainui Kuru (Ralph Rackstraw) and Paul Barrett (Captain Corcoran).
HMS Pinafore's extraordinary popularity in Britain, America and elsewhere was followed by the similar success of a series of Gilbert and Sullivan works, including The Pirates of Penzance and The Mikado. Their works, later known as the Savoy operas, dominated the musical stage on both sides of the Atlantic for more than a decade and continue to be performed today. The structure and style of these shows, particularly Pinafore, were much copied and contributed significantly to the development of modern musical theatre.
A satirical tale of forbidden love and shocking revelations of class and identity, HMS Pinafore is one of the most enduringly popular of Gilbert and Sullivan's great comic creations, with songs including 'Little Buttercup' and 'He is an Englishman'.
Set aboard the ship HMS Pinafore, the captain's daughter, Josephine, is in love with a lower-class sailor, Ralph Rackstraw, despite her father wanting her to marry Sir Joseph Porter, the First Lord of the Admiralty. She abides by her father's wishes at first, but Sir Joseph's advocacy of the equality of humankind encourages Ralph and Josephine to overturn conventional social order. They declare their love for each other and eventually plan to elope. The captain discovers this plan, but, as in many of the Gilbert and Sullivan operas, a surprise disclosure changes things dramatically near the end of the story.
Drawing on several of his earlier "Bab Ballad" poems, Gilbert imbued this plot with mirth and silliness. The show's humour focuses on love between members of different social classes and lampoons the British class system in general. Pinafore also pokes good-natured fun at patriotism, party politics, the Royal Navy, and the rise of unqualified people to positions of authority. The title of the piece comically applies the name of a garment for girls and women, a pinafore, to the fearsome symbol of a naval warship.