Fly My Pretties National Tour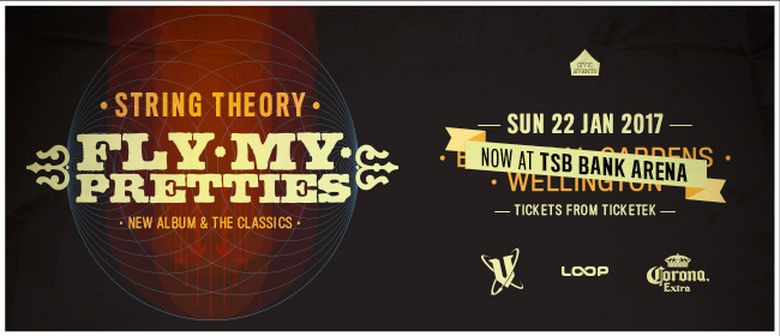 After 12 years of incredible collaborative performances, Kiwi icons Fly My Pretties are hitting the road this summer, with a brand new album, playing in some of New Zealand's most stunning outdoor venues.
With the new album String Theory ready to be unleashed on the world on November 11, Fly My Pretties have today confirmed the 14-strong cast for their six-date January 2017 tour.
Each show will see the same performers who appear on the String Theory album take to the stage. This cast features a number of Fly My Pretties favourites along with some of the most exciting new musical talents emerging in New Zealand, combining to create a truly special live performance experience.
Frontman and musical director Barnaby Weir will be joined by his The Black Seeds bandmates Jarney Murphy and Nigel Patterson, who, along with Mike Fabulous and The Nudge members Iraia Whakamoe, James Coyle, & Ryan Prebble, form the backbone of Fly My Pretties. Bailey Wiley, Laughton Kora, Ria Hall and Tiki Taane are four artists who are performing at the peak of their powers, filling out the robust sound that Fly My Pretties are known for. The cast is rounded out by A Girl Named Mo, Ills Winter and Miloux, who are back to blow audiences away across the summer tour, having wowed the crowds during their recent Fly My Pretties' performances.
With music as a channel to explore the fabric of the cosmos and uncover the meaning of our lives within it, the tour will bring the String Theory album to life on stage, the way it was meant to be heard. The tour will showcase the best of New Zealand summers in stunning outdoor venues, setting this tour apart from any previous Fly My Pretties shows.
All shows are all ages with children under 12 years are welcome free of charge with a paying adult – excluding the show at Coroglen Tavern which is R18.
Fly My Pretties String Theory Cast is:
- Barnaby Weir
- Jarney Murphy (The Black Seeds)
- Nigel Patterson (The Black Seeds)
- Mike Fabulous (Lord Echo)
- Iraia Whakamoe (The Nudge)
- James Coyle (The Nudge)
- Ryan Prebble (The Nudge)
- Bailey Wiley
- Laughton Kora
- Ria Hall
- Tiki Taane
- A Girl Named Mo
- Ills Winter
- Miloux
January:
- Coromandel - Saturday 7 - The Coroglen Tavern (R18)
- Upper Moutere - Friday 13 - Neudorf Vineyards
- Waipara - Sunday 15 - Waipara Hills Winery
- Havelock North - Saturday 21 - Black Barn Vineyards
- Wellington - Sunday 22 - TSB Bank Arena
- Waiheke Island - Sunday 29 - Cable Bay Vineyards