Bryan Ferry World Tour 2019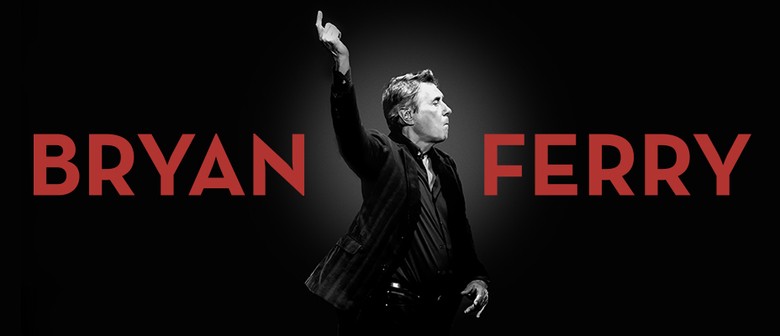 One of Britain's most iconic and sophisticated names, Bryan Ferry, returns to New Zealand, bringing his extensive world tour to Wellington and Auckland in March next year.
Before owning the NZ spotlight, he will first be winding up two solo shows in Melbourne and Sydney, then playing three outdoor performances in Perth, Yarra Valley and Brisbane for 'A Day On The Green 2018'. Special guests are Melbourne funk/pop bands I'm Talking, Died Pretty and Models.
"Three songs in, and Ferry has already delivered a show-stopping performance." – theskinny.co.uk
"A brilliant set and leaves the crowd wanting more." – Daily Mail
"Bryan Ferry revels in his prime." – The Telegraph
Ferry's world tour will travel from South Africa to Switzerland next year, with a tour-end performance at the legendary Royal Albert Hall in London in June. But before then, it's New Zealand's turn—12 years since the singer set foot on Kiwi soil.
Bryan Ferry possesses the rare distinction of being regarded as both classic and timelessly contemporary—an accomplishment achieved by both his recordings with Roxy Music and the range and intensity of his solo albums. 'Let's Stick Together', 'Love Is The Drug', 'Slave To Love', 'Avalon', 'More Than This', 'Jealous Guy', 'Don't Stop The Dance' are just some of his wonderful masterpieces during his spanning career.
Since the release of Roxy Music's seminal, self-titled debut back in 1972, Bryan Ferry has been internationally acclaimed as one of the most innovative and stylish artists in pop and rock music. Wildly regarded as the embodiment of the glamorous and romantic worlds evoked by his songs, Ferry is also lauded as an icon of sartorial and personal cool.
A former student of Fine Art, and as involved in the visual aspects of his work as he is in the composition and performance of the music, Ferry has conceived and directed some of the most original, controversial and critically applauded album sleeve artwork of the last four decades.
With eight studio albums to his name, including multiple Platinum, Gold and Silver certifications across the globe, February 2018 saw the release of a deluxe 45th anniversary edition of Roxy Music's iconic self-titled debut album, remastered at Abbey Road Studios.
Don't miss Bryan Ferry's irresistibly charming croons in these fascinating evenings of March next year!