Machine Gun Kelly – The 27 Tour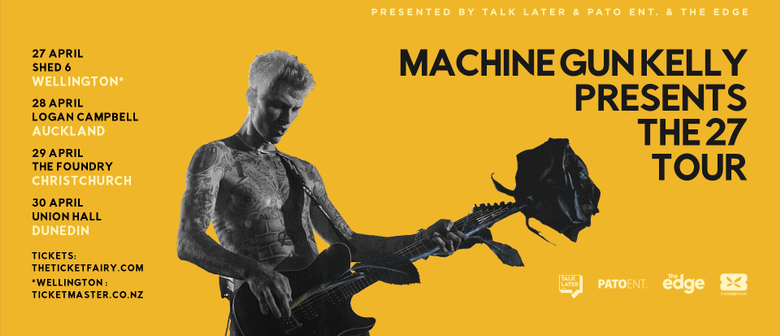 Following his remarkable performance at this year's Bay Dreams Festival, American hip-hop artist Machine Gun Kelly is back at the spotlight, bringing his headline tour to Wellington, Auckland, Christchurch and Dunedin next month.
MGK goes on tour in support of his latest hit single '27' featured from his critically acclaimed 2016 album 'Bloom'. The track openly describes the rapper's present situation—an artist standing at the peak of his career. The line "If I must go, die at 27, then at least I know I died a legend" says it all.
The 27-year old rapper, whose real name is Colson Baker, began making waves in 2010 with his mixtape 'Lace Up' which led to a record deal with the famed Bad Boy Records and his debut LP of the same name. Fast forward to 2015, MGK released his second album 'General Admission' followed by his 2016 smash hit with Camila Cabello 'Bad Things', which peaked at no. 4 on the Billboard Hot 100 chart. The track laid the foundations for the release of his third full-length album 'Bloom' featuring James Arthur, Quavo, Hailee Steinfeld and Ty Dolla $ign.
MGK—who hit headlines recently with news that he would be playing Motley Crue drummer Tommy Lee in Netflix's adaptation of the band's biography'The Dirt'—proved to be one of the most popular sets at Bay Dreams Festival last January.
Witness Machine Gun Kelly keep the vibe alive with his play-on-words masterpieces this April!