Mad Caddies – 25th Anniversary Tour 2020: Postponed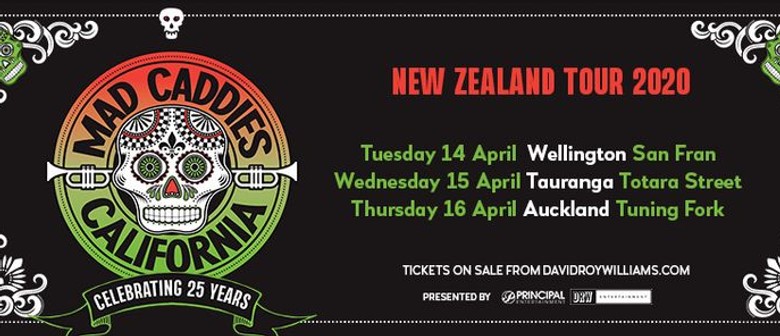 Update: "We are carefully monitoring the COVID-19 situation in the US and abroad, with the situation growing increasingly concerning, our scheduled events are postponed. We will keep you updated as new information comes in.
Thank you for your support and understanding!"
American ska-punk collective Mad Caddies have finally locked in three headline shows in Wellington, Mt Maunganui and Auckland, as part of their highly-anticipated '25th Anniversary Tour' in April 2020.
Fans are in for a treat as Mad Caddies bring a set list full of ska-punk anthems from their 25-year, seven-album back catalogue. Since their debut, they've been renowned for their essential distillation of ska, reggae and pop punk—attracting a loyal and committed cult-following across the globe.
Along with contemporaries The Mighty Mighty Bosstones, No Doubt and Rancid amongst others, Mad Caddies rode high on the mid-'90s' third wave ska revival. They've successfully done their part—turning a whole new generation onto the vital sounds which was first heard in late '50s' Jamaica, and later crossed with the burning energy of '70s' punk-rock.
While trends and times have changed, Mad Caddies have committed and stayed true to their original blueprint—celebrating their love of ska and reggae, and creating urgent and dynamic music with universal appeal for punk aficionados across the planet.
Secure your tickets quick and let Mad Caddies entice you with their eargasmic exhibitions live this fall!