Pop-up Globe's Twelfth Night and Romeo & Juliet at SkyCity Theatre in Auckland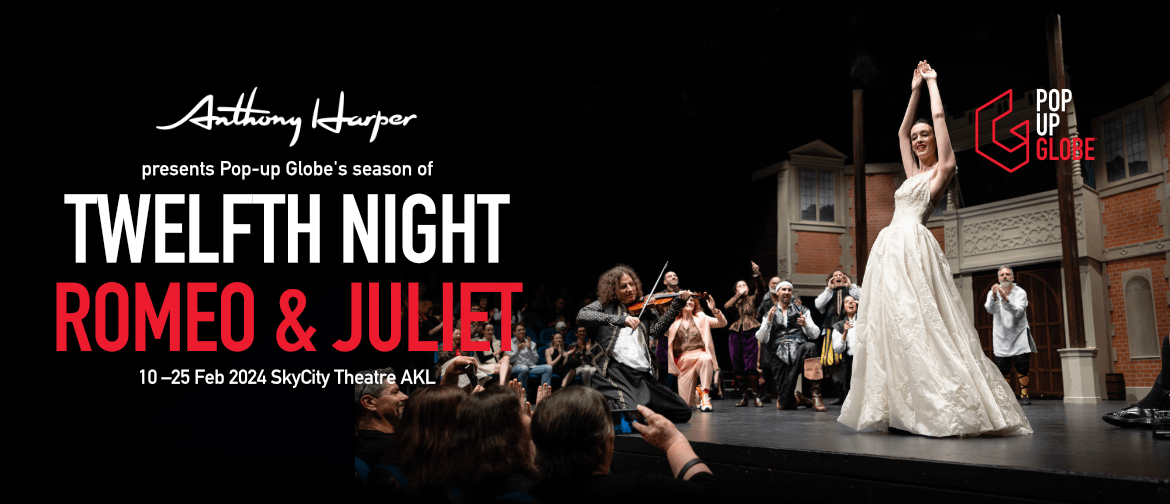 The Pop-up Globe Shakespeare Company is delighted to return in February with two of Shakespeare's best-known and most-loved plays, Twelfth Night and Romeo & Juliet. Welcome back - we've missed you!
This isn't dusty old Shakespeare – this is alive, like a party. And this time, it's luxe! Enjoy all you know and love from Pop-up Globe - one stage with audience members on three sides; one cast of 15 performers presenting 2 productions of Shakespeare's masterworks; a beautiful Jacobean set and costumes; music, fights and dance; beauty, bawdiness and smut; the lights on so everyone shares the same space, the same light; a cast some of whom you know and love, and some we can't wait to introduce you to; and some of the most wonderful words ever written - this time with the luxury of a roof, comfy seats and air con!
The season is popping up at SkyCity Theatre in Auckland. The first performance is Saturday 10 February and the season closes on Sunday 25 February.
Rowdy, rambunctious & joyful, enjoy Twelfth Night, Pop-up Globe style. This is the production which recently sold out most of its run at Auckland's Q Theatre. It was a hit with our audiences. Feedback on our socials included –
"The best rendition of Twelfth Night I have ever seen!"
"Amazing first night – so glad you are back!"
Romeo & Juliet is an all-new production by the Pop-up Globe Shakespeare Company. It will be bawdy, bloodthirsty and beautiful.
Tickets are from $20, plus applicable fees and charges, for seats on stage, up close and personal with the actors.
There are just 7 performances of each production, including a Valentine's Day performance of Romeo & Juliet.
Book now to see one or see them both before the season closes.
Come with us. The game's afoot…