Aoraki/Mt Cook National Park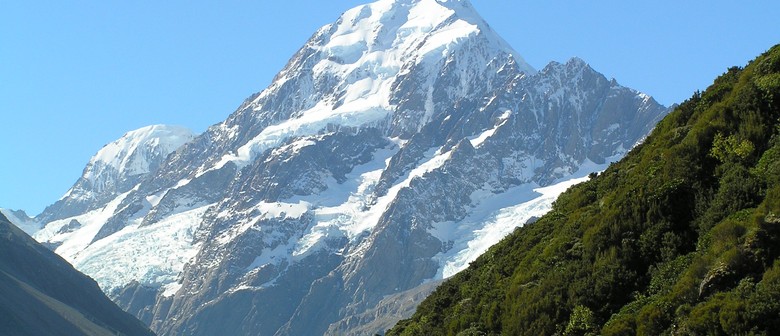 Websites
Aoraki/Mount Cook (70,696 hectares) is New Zealand's great alpine park. It has the highest mountains, including Aoraki/Mount Cook At 3754 metres (12,316 ft), and the largest glaciers. Aoraki/Mount Cook Village and all visitors to the park are dwarfed by the immensity of the landscape that surrounds them.
Aoraki/Mount Cook was formally established as a national park in 1953 from reserves that were established as early as 1887 to protect the area's significant vegetation and landscape.
According to Maori legend, Aoraki was a young boy in the canoe Te Waka a Aoraki, which was stranded on a reef and tilted to one side. Aoraki and his brothers climbed to the high side and sat on the wreckage. The south wind froze them and turned them into stone, creating the Southern Alps/Ka Tiritiri o te Moana. The English name, Mount Cook, honours Captain James Cook, who first surveyed and circumnavigated the islands of New Zealand in 1770.
The mountain is in the Aoraki/Mount Cook National Park which is one of the United Nations World Heritage Parks.
The park is a popular scenic location for walking, tramping, skiing and mountaineering.
Image: View of Aoraki/Mount Cook from valley of the River Hooker. By Miguel A. Monjas, Wikipedia. Creative Commons licence.
Are you responsible for Aoraki/Mt Cook National Park?
You can claim this venue to manage this listing's details.
Past events at Aoraki/Mt Cook National Park