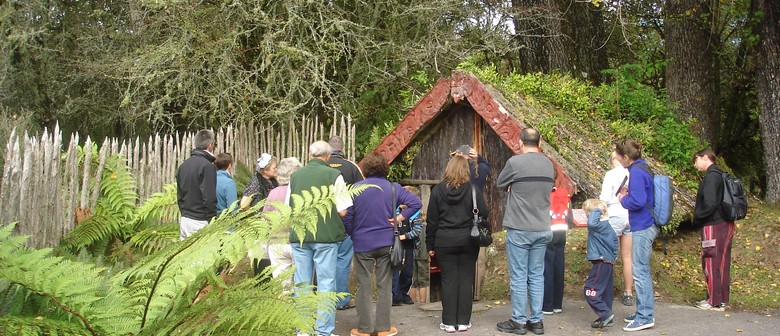 Phone
Hours Open
Weekdays:

9am–5pm

Weekends:

9am–5pm

Closed on Public Holidays
Amenities
Carpark
Wheelchair Access
Toilets
Qualmark
Food Available
Guided Tours Available
Gift Shop
Playground
Ticket Information
Family of two adults and children:

$62.00

Adult:

$31.00

Child 5 years to 15 years:

$8.00

+64 73628287
Additional fees may apply
Nobody would have believed in June 1886, that the serenity enjoyed by the inhabitants of Te Wairoa would be shattered by an outpouring of the Earths fury. Few would have dreamed, as the eighth wonder of the world- the Pink and White Terraces- sparkled in the moonlight, events deep in the ground were menacingly unfolding.
Violent and unexpected, the eruption of Mt Tarawera was New Zealand's greatest natural disaster. For more than four terrifying hours rocks, ash and boiling mud bombarded the peaceful village. In the gloom of the day, the wreckage of the hotels and houses, and the burial of 5000square miles of scenic countryside brought awe and dismay to rescuers.
Now, over 120 years later the excavated village offers a first-hand insight into the devastation, chaos and mayhem that transpired on the night Mt Tarawera erupted.
Take an emotional journey through the Te Wairoa Museum and relive the stories of Te Wairoa and view the extensive collection of excavated objects. Explore the archeological site where Maori whare and Settler buildings have been excavated to their original floor level. Wander the scenic pathways that link the sites, catch a glimpse of a wild rainbow trout that inhabit the Te Wairoa stream and be thrilled by the hike to stand in the spray of the magnificent Te Wairoa Falls.
Self guided, or guided, the journey takes about ninety minutes.
From May to September last entry sales are at 4.15pm.
The Village is situated near Mount Tarawera and Lake Tarawera, within easy reach of the thermal and cultural city centre of Rotorua.
The Tourism New Zealand 2001/02 'Innovator Award' winning museum displays the largest collection of excavated objects unearthed following a volcanic eruption, while opening up the enthralling history of this Māori/Victorian village (Te Wairoa) and it's association with the famed Pink & White Terraces.
The museum is dynamic and interactive, informing and entertaining, an educational resourse where you discover the history of Mäori and European settlement, the fusion of two cultures and the birthplace tourism in New Zealand. This journey ends with the devastating and emotional story of Mount Tarawera's eruption, the most recent in New Zealand history.