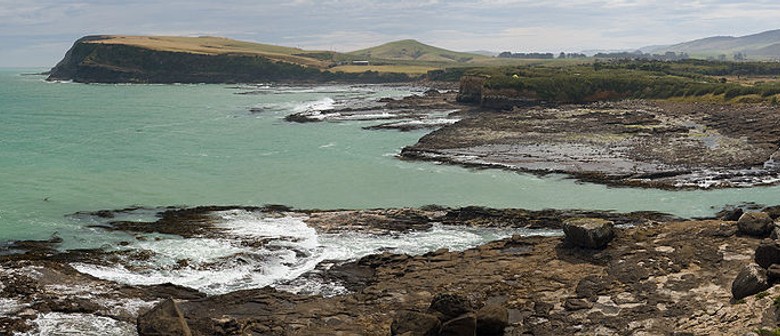 Curio Bay, located in the Catlins, near the southern end of the South Island,is best known for its petrified forest, some 170 million years old. The fossil forest is recognised as one of the best examples of Jurassic fossil forest in the world.
The fossilised logs, from ancient conifers closely related to modern Kauri and Norfolk Pine, were buried by volcanic mud flows and gradually silica has replaced the entire woody structure of the trees. The fossilised wood has a remarkably good texture – it looks much like real wood yet feels like stone. The sea has gradually eroded the rocks around the fossil impressions leaving them visible. On occasion, trunks over 50ft in length have been measured and some have even exceeded 100 ft long.
The Catlins is a rugged, sparsely populated area, noted for its scenic coastal landscape and is home to many endangered species including the rare Hector's Dolphin and the yellow-eyed penguin. The exposed location of the bay leads to some wild weather and heavy ocean swells, which are an attraction to big-wave surfers.
Image by Christian Mehlführer at Wikipedia - Creative Commons Attribution license.
Are you responsible for Curio Bay?
You can claim this venue to manage this listing's details.