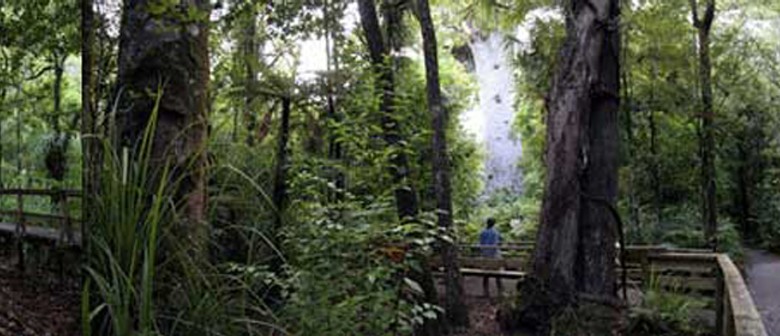 Phone
The spiritual environment of the Waipoua Forest provides a natural stage for an unforgettable Footprints Waipoua encounter with some of the largest remaining kauri trees in the world.
'Step into our World' and let our local guides take you on a memorable journey through nature's stages of evolution, whilst providing a mythological and interactive interpretation of life in the forest.
Waipoua Forest is a remnant of the ancient subtropical rainforest that once grew on the North Auckland Peninsula. Covering 25 square kilometres, it preserves three quarters of New Zealand's remaining kauri trees. It is notable for having two of the largest living kauri trees, Tane Mahuta and Te Matua Ngahere.
Tāne Mahuta (Lord of the Forest) is the most massive kauri known to stand today. It is 51 metres (169 feet) in height, and has a circumference of 13.8 metres (45 feet). There is no proof of the tree's age, but it is estimated to be between 1250 and 2500 years old.
Te Matua Ngahere (Father of the Forest) has a circumference of over 16 metres. It possibly has the greatest trunk circumference of any tree in the Southern Hemisphere, and is estimated to be close to 2000 years old.
The forest contains a great number of other plant types and is a vitally important refuge for threatened wildlife. NZ pigeons, fantails, pied tit, tui, grey warbler, shining cuckoo and kingfisher are common. It has the largest population of North Island brown kiwi in Northland. Populations of the endangered North Island kokako can be found in the high plateau country.
Good walking tracks give easy access to the giant trees Tane Mahuta and Te Matua Ngahere. A few tramping tracks and routes are also available for those who wish to venture deeper into the forest.
Waipoua Forest lies on Northland's west coast, between Dargaville and Omapere.