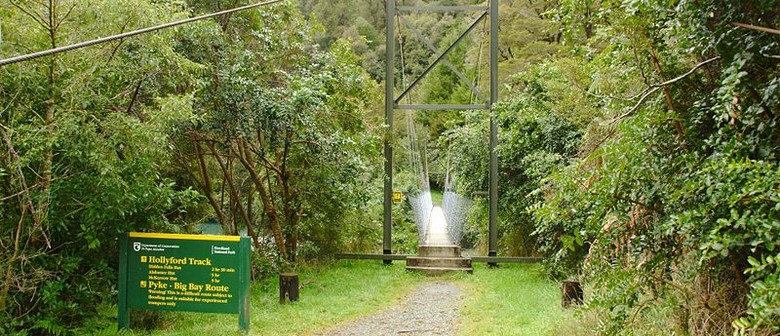 The Hollyford Track is one of New Zealand's best known walking tracks, located at the northern edge of Fiordland, in the South Island. It is one of the only major Fiordland tracks that is mostly flat and accessible year-round.
The track is 56 kilometres long, and takes four days to walk. It starts from Hollyford Road, near the Darran Mountains and ends in Martins Bay, on the Tasman Sea coast, near Milford Sound.
For most of the walk, the track follows the Hollyford River through lowland forest, with views of surrounding mountains. Features of the track include two lakes, Lake Alabaster (Waiwahuika) and Lake McKerrow (Whakatipu Waitai) and the historic site of the now abandoned Jamestown which was established in 1870.
A variety of Native trees and birdlife can be seen on the track and the remote coastline is inhabited by seals and penguins.
The Department of Conservation maintains six huts on the Hollyford Track. Each is supplied with mattresses, running water, wood burning stoves and toilet facilities. Using the huts requires a Ticket, which can be purchased in advance from the Fiordland National Park Visitor Centre in Te Anau or any DOC office or approved outlet.
Track category
Plan and prepare for a Tramping track.
Time: 4 days one way
Distance: 56 km
Please check the Department of Conservation site for full information.
Are you responsible for Hollyford Track?
You can claim this venue to manage this listing's details.