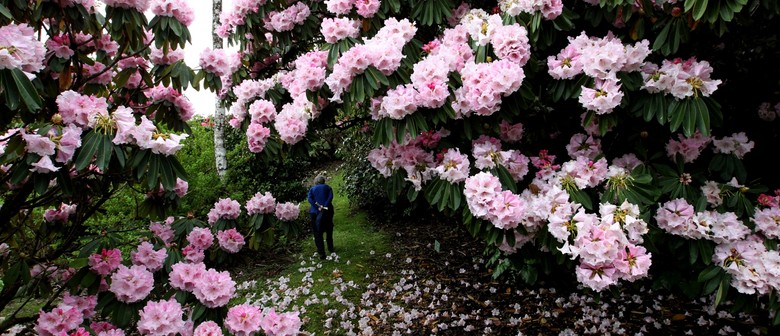 Phone
Website
Amenities
Carpark
Wheelchair Access
Toilets
Qualmark
Pukeiti is a 360 hectare mountain property located between Taranaki and the coast, just south of New Plymouth. It holds one of the biggest and most diverse collections of rhododendrons in the southern hemisphere and is uniquely nestled in rainforest.
Established in 1951 by Douglas Cook (of Eastwoodhill Arboretum), and others forming the Pukeiti Rhododendron Trust, the garden is located adjacent to the National Park. Now owned and managed by the Taranaki Regional Council, it features many kilometres of well-formed tracks for either a garden walk or a longer adventure into the rainforest.
Supported by the exotic garden, birdlife thrives in the rainforest and many native birds such as tui, bellbird, pigeon, fantail, waxeye, and cuckoo are seen or heard. In July the first of the giants awake; large-leaf rhododendrons flowering amongst the rainforest canopy. By October the garden is alive with colour from flower and foliage. Complementary herbaceous plantings, alpines, primulas, hostas and thousands of bulbs continue the display until the giant Himalayan lilies flower in December and fill the air with their honey scent. The hydrangea collection comes to a peak in mid- summer and on into autumn. Flowering a few times in one year - vireya rhododendrons provide year-round vibrancy and beauty in the Covered Exhibition Walks - there is always something interesting to see at Pukeiti.
During the high season, the Founders Café is open for a selection of lunches and tasty snacks so visitors can relax and enjoy the panoramic views.
Alongside Tupare and Hollard Gardens, Pukeiti is owned and managed by the Taranaki Regional Council. It is open daily, free entry and runs a regular programme of educational, creative, active and fun events in both the garden and rainforest.
Open daily - 9 am to 5 pm.