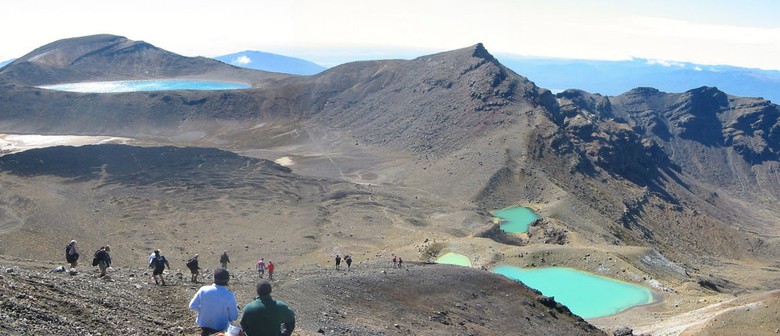 The Tongariro Alpine Crossing track passes over varied and spectacular volcanic terrain. In the presence of active volcanoes you can experience some of Tongariro National Park's special gifts. A cold mountain spring, lava flows, an active crater, steam vents, emerald-coloured lakes and magnificent views combine to make this an enjoyable and memorable trip.
The hike from Mangatepopo to Ketetahi takes approximately 7-8 hours, and is 17km long. It is not a round trip so transport at either ends needs to be prearranged.
This rugged alpine trek is exposed and climbs to 1900m. The mountain is subject to unpredictable weather, appropriate clothing and footwear are essential.
Time: 6 to 8 hr
Distance: 19.4 km
Be sure to visit the Department of Conservation website for more details and up-to-date information.
Image: The most famous part the Tongariro Crossing with the Emerald Lakes and the Blue Lake, typically crowded on a beautiful day. Photo by Dabbelju at en.wikipedia.org.
Are you responsible for Tongariro Crossing?
You can claim this venue to manage this listing's details.
Past events at Tongariro Crossing