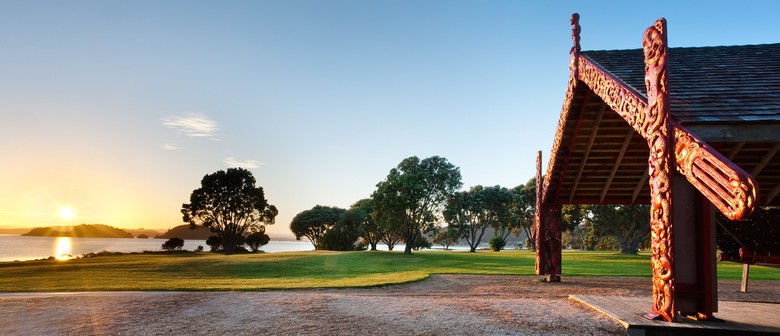 Website
Amenities
Carpark
Box Office
Wheelchair Access
Toilets
Qualmark
Food Available
Guided Tours Available
Gift Shop
Ticket Information
09-402 7437
Additional fees may apply
The Waitangi Treaty Grounds is New Zealand's most important historic site where in 1840 New Zealand's founding document was signed: the Treaty of Waitangi. The Treaty Grounds features the Museum of Waitangi, the Treaty House, the carved Meeting House and the world's largest ceremonial war canoe. Enjoy strolling through one of New Zealand's great beauty spots with its panoramic views of the Bay of Islands. Visitors to the Waitangi Treaty Grounds purchase a Day Pass that includes a guided tour of the grounds and a cultural performance in the carved Meeting House. There are daily guided tours of the grounds and cultural performances in the carved Meeting House. Hangi & Concert evenings are offered in summer.
The Museum of Waitangi opened in February 2016 and tells the story of Maori and European contact and the ongoing development of New Zealand as a nation through a mix of traditional museum displays and interactive technology; including digital labels and large-scale audio-visual displays.
Guided Tour – included in your Day Pass
Discover all the major treasures at Waitangi. Learn about the history, the stories, personalities and events that shaped New Zealand.
Duration 50 minutes
Cultural Performance – included in your Day Pass
The performance starts with a spine tingling challenge outside, followed by a full performance inside the carved Meeting House including waiata (singing), poi, stick games, Māori weaponry display and the famous haka.
Duration 35 minutes
Day Pass price
Adult $40
NZ resident (ID required) $20
Child (up to 18 years) Free*
*Children must be accompanied by a parent or caregiver. Price not valid for schools or groups.
Hāngi & Concert price*
Adult $105
Child $50
*Includes a Day Pass valid on the same or next day
Opening hours:
9am - 5pm. Closed on Christmas Day.
Waitangi Treaty Grounds, Tau Henare Drive, Waitangi, Bay of Islands.
PO Box 48, Paihia 0247, Bay of Islands, New Zealand
Phone 09 402 7437
Free phone 0800 9248 2644
www.waitangi.org.nz
- main photo courtesy www.flickr.com/photos/sids1/
Past events at Waitangi Treaty Grounds