Whanganui Regional Museum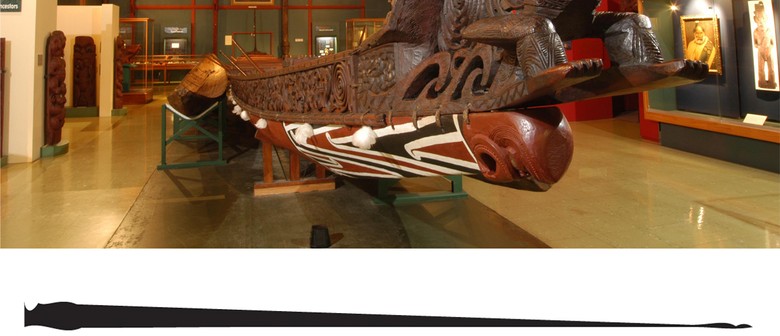 Phone
Hours Open
Weekdays:

10am–4:30pm

Weekends:

10am–4:30pm

Closed on Public Holidays
Amenities
Carpark
Wheelchair Access
Toilets
Guided Tours Available
Gift Shop
Ticket Information
International and national adult :

$8.50

International & national senior adult and backpackers:

$6.50

Children under 16:

$0.00

Local adults and all children:

$0.00

Additional fees may apply
Where there is a body of water people settle. Where people settle legends unfold.
The Whanganui Regional Museum is an essential stop in your exploration of a region renowned for its rich cultural heritage and dramatic natural landscape. Here you can discover taonga Māori - the ancestral treasures of the River people, explore our remarkable natural environment and meet generations of people whose stories bring our history to life.
From our extensive collections the Museum offers a changing exhibitions and events programme, comprehensive education experiences and visitor research services.
Permanent exhibitions:
See butterflies, spiders and all sorts of creepy crawlies close up in The Bug Room. Learn about these tiny creatures collected from Whanganui and around the world.
The Street - Wanganui 1900-1920, re-creates early 20th century Whanganui shops and businesses from this prosperous time.
Ngā Manu: Birds of New Zealand features many endangered and extinct New Zealand birds such as the kiwi, moa and huia.
Land – Mana Whenua, Mana Tangata describes the development of the wider Whanganui region, community and city during the 19th century through experiences of tangata whenua and European settlers, with particular reference to land, spirituality, conflict and alliance.
Te Āti Haunui-ā-Pāpārangi, the Māori Court paints a vivid picture of the tangata whenua who have occupied these lands for many generations.
Te Pataka Whakaahua - The Lindauer Gallery displays the portraits of prominent Māori personalities from the 19th century by renowned artist Gottfried Lindauer.
Past events at Whanganui Regional Museum