Better Birth
Online, Virtual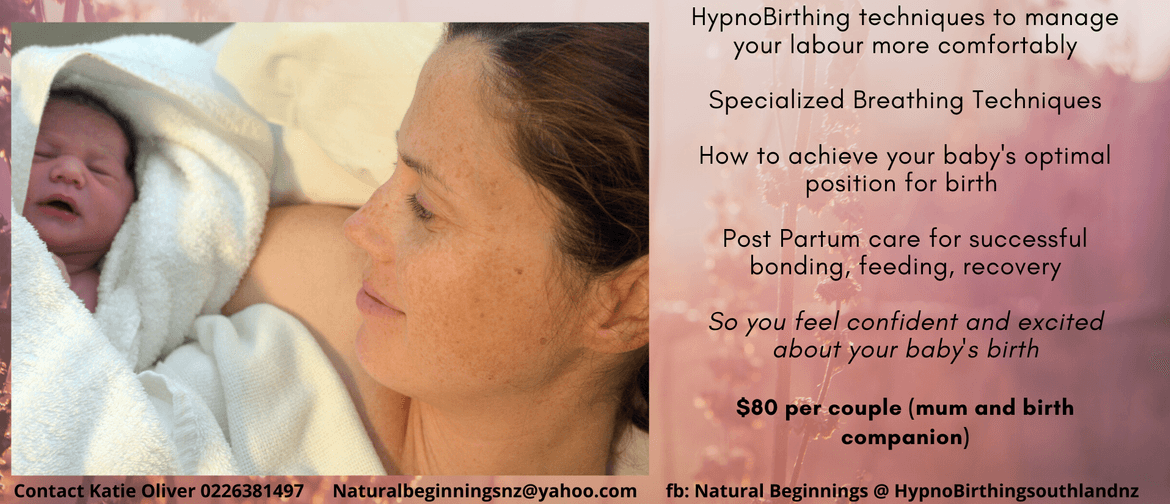 Tour
Restrictions
Listed by
THIS WILL NOW GO AHEAD ONLINE!
I want to help support families through birthing at this extraordinary time.
The Better Birth workshop will equip couples with many tools and techniques that will enable them to labour more comfortably and feel more in control. This course is suitable for first-time parents or if you have birthed before. It is especially useful if you need to heal from a previous experience or have any/ or had any special circumstances. These tools are useful for every type of birth: cesarean, hospital, birthing unit or in the comfort of your own home.
You will be taught :
How and why HypnoBirthing can help with easier pregnancies, labour & birth and why babies are usually easier and calmer.
Specialized Breathing Techniques for labour and birthing which allows your body to adjust gently as your baby emerges, reducing the chance of any damage.
Specific Positional Techniques that you can use in pregnancy and labour to optimize baby's positioning for an easier birth.
Your partner will feel useful and confident in being able to support you through labour, birth and the postnatal period.
You will feel equipped to discuss your options with your care providers so that you, together can work towards YOUR optimal birth, however that looks for you.
How precious the postnatal period is and what you can do to feel supported as you become a new mother (again?). How rest and recuperation are the key to your recovery and being able to nourish your new baby as you all settle into your new roles and new life.
Because it is now online you will sadly miss out on my yummy refreshments including delicious raw slice but go on, treat yourself to something yummy to nibble on at home with endless cups of tea!
*The Price $80 is per couple. But DO NOT let money be a barrier for you! It is important to me that you feel confident and calm leading into your labour and birth at this time. Please be in touch so that we can make something work for us both.
You can attend by yourself but having a birth support person is preferable. You can now have another birth support person attend the workshop. Price includes all handouts online and the class will be delivered via Zoom or similar. It is still important to treat it like a birth class and to create a time and space at home that is quiet and calm and away from other distractions, where possible.
For more information, message me,
Katie Oliver either through the Natural Beginnings fb page, messenger,
email:Naturalbeginningsnz@yahoo.com
text 0226381497
A Full HynoBirthing course is available on the 3rd May and runs for 4 sessions - 3rd, 16th, 17th May and 7th June 2 pm -6 pm (subject to change). Message me if you want more details. If you attend the Better Birth Workshop and decide to enrol for the full course you will have a $50 discount off the full course cost. so you will pay $425 instead of $475.
Post a comment
Did you go to this event? Tell the community what you thought about it by posting your comments here!