Voice of the Womb - Online
Online, Virtual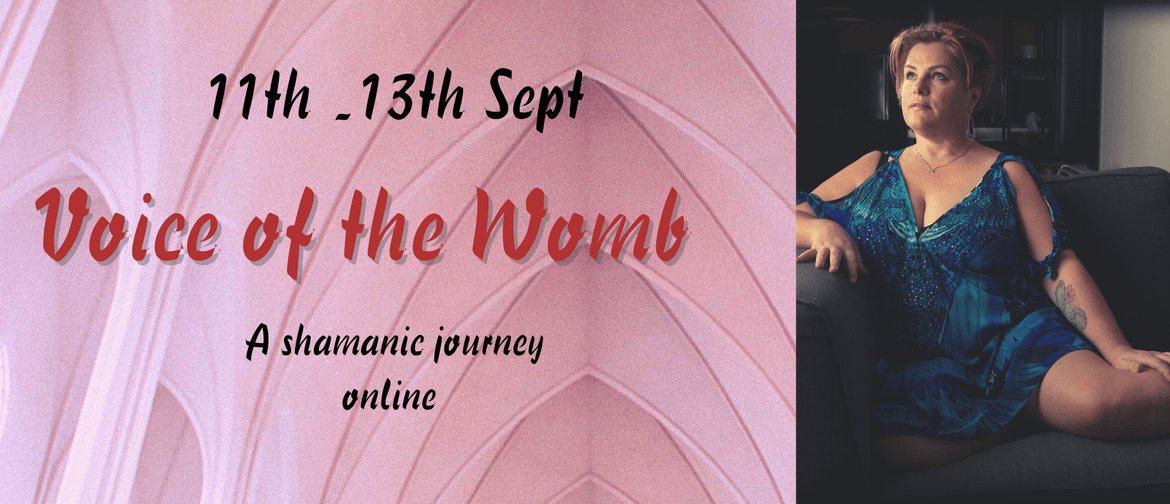 Ticket Information
Admission: $344.83

ea

($333.00 + $11.83 fees)

Eventfinda tickets no longer on sale
Tour
Restrictions
Website
Listed by
The Voice of the Womb has a Primordial Cry.
- A Shamanic Journey through the Womb/Throat Gates.
It's time to 'remember' this ancient medicine that is now calling to be birthed through the Voice of the Womb.
In this online weekend offering we will be exploring the 7 gates of the womb (lineage holder Janine Ma-ree) alongside the 7 connecting gates of the mouth/throat.
This combination and connection is a unique offering created by Tahlia through a culmination of years of exploration of the Voice, Womb and Voice/Womb connection.
Is your Voice stuck? Is it 'out of tune'? Does it freeze when you go to speak up? Do you long for more pleasure in your body? Do you wish you could get out of your head? Do you love to sing but are scared of 'being heard and seen'? Do you have painful periods or sex? Does your Voice lack 'power' of do you lose your voice easily? Are there 'codes' or 'light language' that haven't been fully accessed yet?
These are just some of the reasons WHY you might want to come to this weekend.
In a time when women are once again reclaiming their Voices, it's time to descend down into the Earth Womb, down into the fungal network bringing through the Songlines to vibrate and connect the Earth and Cosmic Womb portals.
We've become 'stuck' in the ascension of the cosmic portals and for women's voices to be fully heard, to soar, to have presence, we need to descend, to bring the Voice back down to connect with Mother/Mada vibrating that through the 'whole' body, not just from the neck up.
There's a Vibrational frequency here that resonates through the hallways, that makes heads turn, that makes one have goosebumps.
And what I know from working with women connecting the Voice down into the Womb is that there is a LONGING for this, a knowing, a place we call 'home'
It's a knowing from deep within, it's a willingness to enter through the portals to let her Voice be revealed.
* Please note: For women who no longer have wombs, you are able to still work energetically with the gates which can be a really powerful process.
Part of this weekend will be tapping into the mystery of what wants to unfold in the synergy of the group.
As well as exploring the 7 Womb/Throat gates through transmission and ritual by Tahlia we will explore:
*The Biological connection between the Throat and Cervix.
*How to connect to your own Unique Voice and Vibrational Essence.
* What happens to the Womb when the throat is blocked and vice versa (as above, so below).
*How to vibrate your voice through the whole body so that you're not just a 'talking head'.
*Sound as a resource in the body for more pleasure, vitality and as a vibrational medicine.
*The breath as a bridge for the Voice and for activating the Body.
This offering is open to all humans with physical wombs as well as those who have had a hysterectomy and want to work 'energetically' with their womb.
The layout of the weekend will look as below:
Friday evening 7.30-10pm NZST (NZ)
Saturday - POD calls with a group of women (exact time dependent on time zone of group)
- land journey
- 7.30- 10pm Ritual
Sunday – as above.
You must be willing to fully commit to the whole weekend and allow yourself the spaciousness to be fully immersed in the container.
About Tahlia:
Tahlia is a Sound and Somatic Therapist combining tools of Sound Therapy, Vocal Coaching, Sexological Bodywork, Embodied Counselling, Kahuna Massage, Womb work and Shamanic practices.
She has a background as an Opera Singer for many years before moving more into the healing arts and embodied therapies.
She completed a 9 month Womb Apprenticeship in 2016 on the Red Earth in NSW, Aus with Janine Ma-Ree and has assisted on other womb retreats since then. Her current study is a three year course in Somatic Experiencing (working with trauma and the nervous system in the body).
hello@tahliabrand.com
Post a comment
Did you go to this event? Tell the community what you thought about it by posting your comments here!