Hello Sailor & Suzy Blue
Black Barn Rd, Havelock North, Hawke's Bay / Gisborne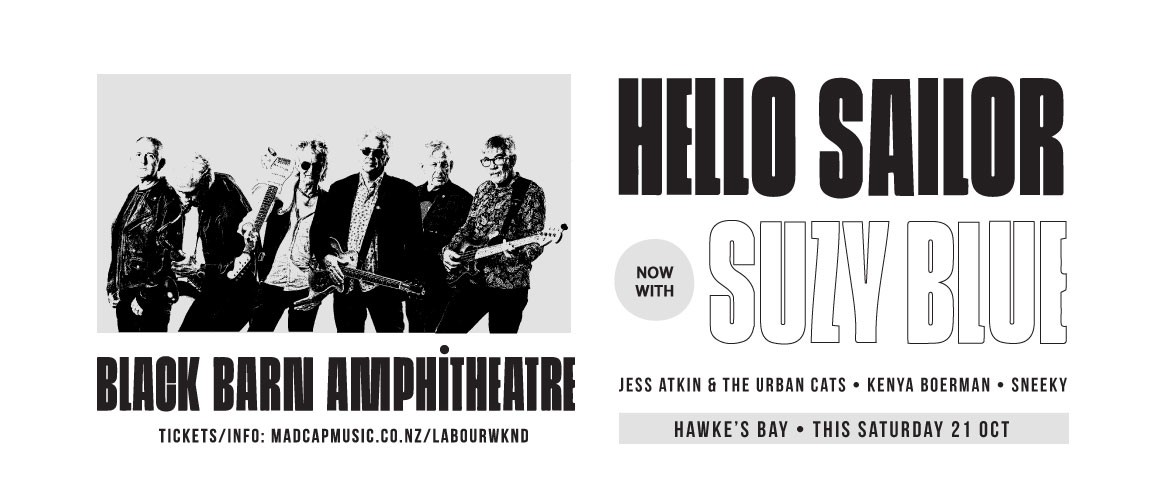 Restrictions
Website
Related Artists
Listed by
Update: Long Weekend Concert at Black Barn - Saturday 21 October
In truly gutting news, The Chills are reluctantly canceling their performance at Black Barn Amphitheatre this Saturday due to illness within the band. The Chills would not cancel unless absolutely necessary and apologize to their Hawkes Bay friends and fans. The Chills wish you all a fantastic time with Hello Sailor and the talented artists in support, and they look forward to rescheduling a visit to Hawkes Bay very soon.
In the spirit of keeping the music alive and the show going, we are delighted to announce the addition of Hawke's Bay's Suzy Blue, hailing from the coastline of Haumoana. The band is made up of Arahi Whaanga, Wills Van Der Meent & Justin Kennedy. Their unique and energetic style is sure to captivate you, and we are immensely grateful for their enthusiasm in stepping up at such short notice. Jess Atkin & The Urban Cats, Kenya Boerman & Sneeky tie off the occasion.
With a stellar weather forecast for the upcoming long weekend, including Saturday, we are genuinely looking forward to hosting you for an epic spring evening concert at Black Barn Amphitheatre. Your support means the world to us, and together, we'll make this a memorable event. Wishing a speedy recovery to The Chills x

-------------------------

New Zealand music legends The Chills & Hello Sailor come together in Hawke's Bay for an unforgettable evening of great kiwi music at Black Barn Amphitheatre in this showpiece concert of Labour Weekend.

Saturday 21st October, will see Black Barn host Hello Sailor as the full sail plugged in six-piece rock'n'roll band, playing a set packed with hits, while The Chills charge in with their five-piece best, led by Martin Phillipps.

Harry Lyon of Hello Sailor says, "Black Barn is the perfect setting for a good time, early spring evening. Really pleased to be back in one of our favourite parts of the country and we're looking forward to catching up with The Chills again."

Hello Sailor in 2023 is dedicated to the music and memory of Dave McArtney and Graham Brazier. The current line-up is as close as fans will get to the band's classic sound, powered by the energy and attitude of Rick Ball on drums and Paul Woolright on bass. Harry Lyon has stepped up as lead vocalist with him and Jimmy Taylor taking care of weaving guitars. Liam Ryanon keyboards and Andy Dixon saxophone complete the package. Their shows feature Hello Sailor, Pink Flamingos and Graham Brazier favourites, hit songs from Harry's back catalogue and his 2018 critically acclaimed hit solo-album "To the Sea".

Formed in Dunedin, New Zealand in 1980, The Chills gained deserved acclaim for their early singles including Pink Frost, I Love My Leather Jacket and Wet Blanket, released by legendary New Zealand indie label Flying Nun. The song writing skills, vision, and determination of front-man Martin Phillipps provides continuity in The Chills across the decades, through a series of line-up changes and tragedies, many international tours, and several label changes. Audiences can expect to be transported on a journey through decades of musical evolution, as The Chills showcase both their classic tracks and their latest compositions, a testament to their enduring influence.

Join us in celebrating the legacies of The Chills and Hello Sailor as they come together at Black Barn for an extraordinary double headline concert on Saturday 21st October. With local support Jess Atkin & The Urban Cats, Kenya Boerman and Sneeky. Tickets are expected to sell quickly. $2 from every ticket sold will be donated to the Hawke's Bay community for ongoing recovery efforts.

This is a family friendly event however holders of Youth and Kid tickets must be accompanied by a parent or legal guardian.

Return bus passes are available after ticket selection.

Napier Bus - pick up times

15:30 Taradale Clock
15:50 Gin Trap
16:10 East Pier
16:30 Napier Isite
16:55 Clive BP
17:15 Black Barn Vineyards

Hastings Bus - pick up times

16:20 BP Stortford
16:40 Cenotaph (Russell Street)
17:00 Havelock Isite
17:15 Black Barn Vineyards
Post a comment
Did you go to this event? Tell the community what you thought about it by posting your comments here!