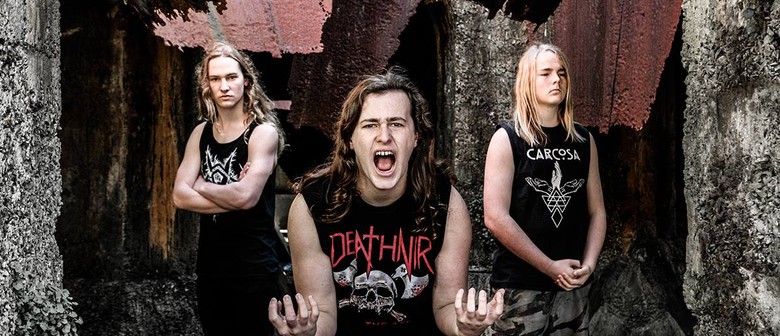 Websites
Alien Weaponry is a three piece metal band whose style has been influenced by old school thrash and hardcore.
Members are Lewis de Jong – Guitar/Vocals; Henry de Jong – Drums; Ethan Trembath – Bass.
AW was formed by brothers Henry and Lewis de Jong, who have been listening to bands like Metallica, Anthrax and Pantera since birth; and started jamming and writing songs before they learnt the alphabet. Current influences include Lamb Of God, Tryvium, Subtract and System of a Down, but the band has developed its own distinctive thrash metal sound, destined to endure into future centuries.
Not content to rely on the shock value of their extreme youth, the group understands the value of professionalism and works crowds to a frenzy with their tight, thrashy energy and wild stage performances. Their plans for world domination include playing at Wacken in Germany and touring the big international metal festivals. They refuse to play covers and have enough material to begin recording their first album later this year.
Past events by Alien Weaponry