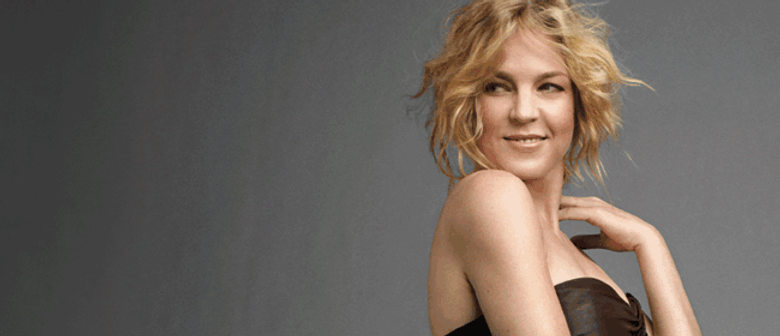 Some music is intended to paint a romantic scene – a candlelit dinner, a walk along a moonlit beach. Quiet Nights – Diana Krall's twelfth album – ain't about that. Using Brazil as a musical point of reference, the award–winning pianist and singer is not suggesting a night out; she means to stay in.
"It's not coy. It's not 'peel me a grape,' little girl stuff. I feel this album's very womanly – like you're lying next to your lover in bed whispering this in their ear."
She's not kidding. From Krall's refreshing version of "Where or When," to an utterly soul–stilling rendition of "You're My Thrill," the ten songs on Quiet Nights are disarming in their intimacy. Even those already familiar with the breathy vocals and rhythmic lilt in Krall's music – and now there are millions – will be taken aback by just how far the music pushes, unabashedly, into the realm of sweet surrender. "It's a sensual, downright erotic record and it's intended to be that way."
Krall is the first to credit the musical team she assembled – her loyal quartet, ace producer Tommy LiPuma, engineer Al Schmitt plus legendary arranger Claus Ogerman – for much of the seductive power on Quiet Nights. But there's a deeper, palpable sense of maturity that she brought to the recording as well. "Most of my singing and playing on the album is really just first or second takes. 'You're My Thrill,' was a second take – "Too Marvelous," first take."
"She's completely matured," says Tommy LiPuma, who should know, having first worked with Krall in 1994. "Even in the past few years. She approaches her vocal phrasing much more like an instrumentalist than a straight singer. It's in her reading of the lyrics, and the timbre of her voice, much more misty like Peggy Lee in her mature period." ("I didn't want to over sing –– I was drawing also from Julie London very strongly on this album," Krall confesses, noting that such influences are not always conscious on her part. "It just came out that way.")
As such, the Brazilian focus of Krall's new album could not have been a more natural next step. "She's been very sympathetic to this music for a long time," notes LiPuma. "When we did The Look of Love, we were very much leaning in the bossa nova direction. Quiet Nights is really a celebration of this music. Diana sings three Brazilian classics, she rhythmically turned four standards into that style, and three ballads. So really there are ten songs on the album of which seven are just straight up bossa novas."
It makes sense that Quiet Nights (also the English name of the bossa nova classic "Corcovado" that is the title track) draws much of its musical spirit from the land that puts the "carnal" into its annual Carnaval celebration. "I was inspired to do this record because of my trip last year to Brazil," says Krall, who returned to Rio de Janeiro to shoot a concert for a new DVD release. "Then I just kept going back and found that everywhere you go you still hear the sounds of Jobim and bossa nova."
For those who may not remember or weren't yet around, Brazil's bossa nova wave (literally "new bump" or "new way" in Portuguese) was the widely popular musical style, based on the country's traditional samba rhythms, that swept up from the sidewalk cafes of Rio in the early '60s and seduced the entire planet with its hypnotic, swaying beats, sultry melodies, and new, exciting harmonies – all with generous room for jazz improvisation. Antonio Carlos Jobim (who composed "Quiet Nights" and "The Girl from Ipanema") and Joao Gilberto ("Este Seu Olhar") are two of the pioneers of the music, revered as national heroes in Brazil to this day.
"It's their standards – even the kids know all the songs," says Krall. "In concert, I started singing "Este Seu Olhar" and the audience just opened their mouths and sang along – like a choir! It's in their blood."
Claus Ogerman was the arranger on many of bossa nova's first wave of recordings, working with the likes of Jobim and Gilberto, as well as Frank Sinatra, Stan Getz and Bill Evans. That he pulled himself out of semi–retirement in Munich to work on Quiet Nights says much of his respect for – and enjoyment working with – Krall.
"I think Claus really fell in love with her the first time around," says LiPuma, who introduced the two in 2000. "He had sort of stopped doing new projects except composing his own music, piano concertos, violin concertos and such. Now, I've worked with Claus since the early '70s – on his own recordings, with Hank Jones and Michael Brecker – a Joao Gilberto album in 1977 (Amoroso) which is one of Diana's favorite albums. But he still says that The Look of Love (Krall's 2001 multi–platinum success) was probably the best album that he had ever been involved with. So he's very conscious of what she is capable of doing."
Ogerman's arrangements are as defining an element on Quiet Nights as any other, adding an astonishing level of sophistication to its mood and languid flow. There are moments when time slows to the point that normally momentary emotions have a chance to collect and be fully expressed. Ogerman's challenge was to find a fresh, ear–catching approach to familiar territory. "Claus has worked on a lot of these tunes before," LiPuma says. "But for the most part he approached them much differently. He emphasized the minor chord side–– slightly darker on certain things, like 'Quiet Nights.' Diana has complete confidence in him and just gave him total freedom."
Krall laughs relating how Ogerman jokingly understated his contribution. "Claus told me, 'It's a gloomy string orgy' – he has a very dry sense of humor. There was a lot of him saying, 'I've written these things a hundred times, now I'm gonna really do something crazy. And some of the arrangements he did are pretty wild.
"When we did 'Walk On By,' he said 'Ja, I think this is gonna be good.' And then we listened to those French horns playing the Burt Bacharach melody? We all had a meltdown. There's a lot of space with just the orchestra playing. It's reminiscent of Ravel's 'Bolero' and so beautiful I didn't want to fill it up with a jazz solo. I refused to play piano in some of those parts because I wanted to leave the space and let the arrangements do their thing."
Krall confirms that, in a manner that would satisfy the most pure jazz sensibility, Quiet Nights was built from the band up – meaning that each tune began as a quartet performance, featuring longtime sidemen guitarist Anthony Wilson, bassist John Clayton, and drummer Jeff Hamilton (in a scene where things change fast and often, it says a lot that Krall has forged such uncommonly lasting relationships – including her backup, her producer and her arranger.)
"The trust I have with Claus is complete. We met in New York, where I played him 25 tunes and from there we edited it down to 15. He wrote the arrangements and after that there was no editing, no changes."
LiPuma describes how the recording process continued: "Claus wrote the charts and then we did the rhythm tracks to his specifications. But it wasn't like it was a routine – Diana loves going in there with the quartet. She's been at this a while and has a certain manner of doing things. She knows that it's about trying to find the groove. She feels much more comfortable in doing it with just a quartet, then bringing in the strings and so forth afterwards."
Krall – at the age of 43 – has experience in her favor. Born in Nanaimo, Canada, to a musical family – her father is a stride–style pianist and serious record collector –– she grew up absorbing music that guided her future growth. She attended Berklee School of Music in the early '80s, then moved to Los Angeles where she continued her studies with bassists Ray Brown and John Clayton, drummer Jeff Hamilton and pianist Jimmy Rowles; Rowles convinced the young pianist to focus on her singing as well. By 1990, Krall relocated to New York City and began performing with a trio, and in 1993, she released her debut album on a small Canadian independent label.
Fifteen years later, she can look back over a stellar career path: in '99, signed to Verve, her career exploded when When I Look in Your Eyes won a GRAMMY® for best jazz vocal and became the first jazz disc to be nominated for Album of the Year in twenty–five years. In 2002, The Look of Love was a #1 bestseller in the US and a five–time platinum album in Canada. 2004's The Girl in the Other Room, was her first to focus on her own songwriting (with six tunes co–written with husband Elvis Costello); 2005's Christmas Songs proved one of the season's best–sellers; and 2006's From This Moment On was an upbeat, critical success that coincided with the birth of her twin sons – a life–affirming event that LiPuma feels enhanced Krall's continuing growth as a musician. "Motherhood definitely agrees with her—and marriage. I think she's really come into her own."
As moving as Quiet Nights is –– deriving from Krall's feelings for Brazil and bossa novas – the singer is not shy in admitting that its sensuality is as much about her home life. "It's my love letter to my husband – just an intimate, romantic album." As they say in Rio – obrigado!
Post a comment
Ooooh, this lady is sooo sexy, & also a very talented Jazz singer. Should be well worth the probably extortionate ticket price. Dunno where I'll be in Feb, but definitely be attending the nearest concert to where I am. Now If they'll only bring over Norah Jones I'll really be in heaven!!! For a picture gallery of both singers see http://vintagevinylnz.webs.com/apps/photos/