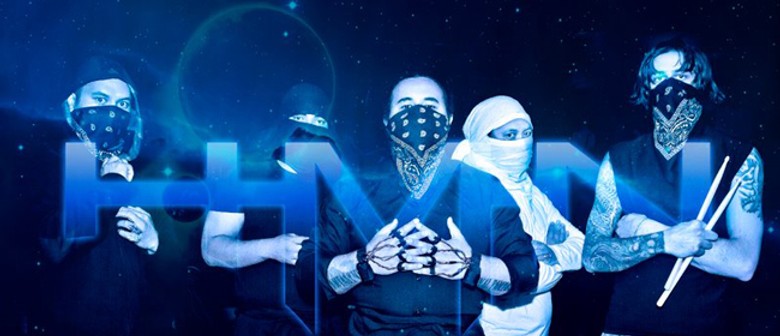 Website
2012 looks was the year of The Heavy Metal Ninjas, with their debut EP out via Warner music hitting in the top 40, top 5 NZ albums, and sitting in at number 1 on the iTunes metal charts.
Led by guitar virtuoso (Ibanez and Dimarzio endorsed) Richie Allan, the band is, as you would expect, all about the metal.
Delivering a jaw-dropping performance of the winning classical composition at 2011's APRA awards, the sheer power and spectacle of their live show has to be witnessed first hand. The band deliver a ferocious guitar onslaught of instrumentals while dressed as ninjas, complete with an impressive light show that has them firing laser beams from their fingers. Showmanship is something that has been sorely missing from the local music scene of late, but The Heavy Metal Ninjas arena-ready epic flamboyance is here to lift the bar.
Formed in Auckland in 2010 following years of jam sessions after Kora shows, the band also features Kora brothers Stu and Fran on guitar and bass respectively, and Joe Brownless on drums. They supported Shihad on their 2010 'Killjoy' tour and were one of the highlights of the G-Taranaki Guitar festival. Grab their EP and experience for yourself.
Source and image: Facebook
Past events by Heavy Metal Ninjas