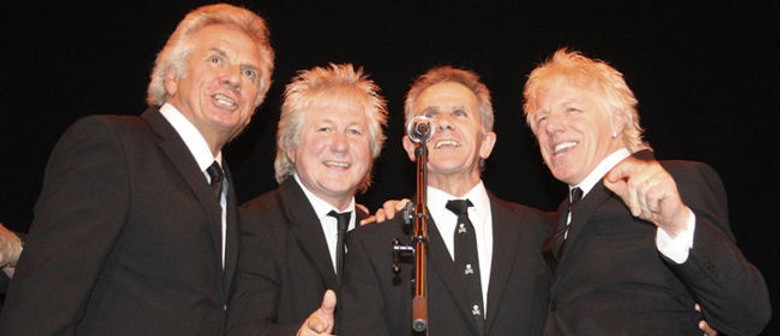 Websites
Herman's Hermits are an English beat (or pop) band, formed in Manchester in 1963 as Herman & The Hermits. The original members of the band were Keith Hopwood (guitar, vocals), Karl Green (guitar, vocals), Alan Wrigley (bass guitar, vocals), Steve Titterington (drums), and Peter Noone (lead vocals). The youngest member of a remarkably young group, 15-year-old Noone was already an experienced actor on the British soap opera Coronation Street. Derek "Lek" Leckenby (guitar, vocals) and Barry Whitwam (drums) (born Jan Barry Whitwam, 21 July 1946, in Prestbury, Cheshire) joined later from another local group, The Wailers. Whitwam replaced Titterington on drums, Green switched to bass guitar (replacing Wrigley), and Leckenby took over for Green as lead guitarist. After Leckenby joined the band, the group made a deal with producer Mickie Most and signed with EMI's Columbia label in Europe and MGM Records in the United States.
Their first hit was a cover of Earl Jean's "I'm Into Something Good" (written by Gerry Goffin and Carole King), which reached #1 in the UK Singles Chart and #13 in the US in late 1964. They never topped the British charts again, but had two US Billboard Hot 100 #1s with "Mrs. Brown, You've Got a Lovely Daughter" (originally sung by Tom Courtenay in a 1963 British TV play) and "I'm Henry the Eighth, I Am" (a British music hall song by Harry Champion dating from 1910, which Peter Noone's Irish grandfather sang). These songs were aimed at a US fan base, with Peter Noone exaggerating his Mancunian accent; the band was not fond of either song, and they were never released as singles in Britain.
When Noone left the group the Hermits continued on, first with Peter Cowap. Leckenby died of non-Hodgkin lymphoma in 1994, leaving Whitwam as the only continuous member of the band. He continues to tour with Herman's Hermits joined by new musicians. As of December 2011, these included Geoff Foot, who has been associated with the band since Noone's departure, as lead singer and bass guitarist, Kevan Lingard on keyboards and vocals, and Simon Van Downham on guitar.
- Wikipedia
Past events by Herman's Hermits