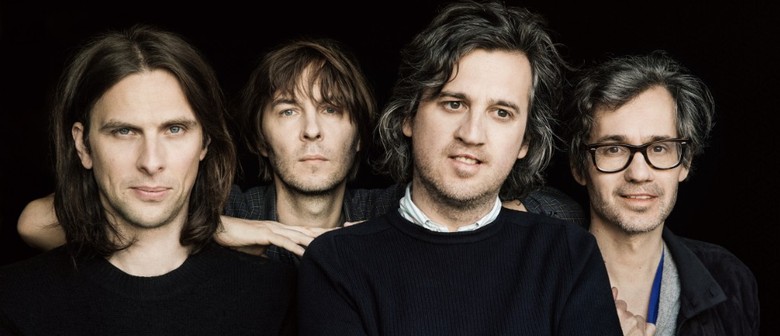 Phoenix are an alternative rock band from Versailles, France.
The founding members are Thomas Mars, Deck D'Arcy, Christian Mazzalai and Laurent Brancowitz.
Vocalist Thomas Mars, bassist Deck d'Arcy, and guitarist Chris Mazzalai started as a garage band based out of Mars' house in the suburbs of Paris. In 1995, Laurent Brancowitz, Mazzalai's older brother, permanently joined the band on guitar after the end of the short-lived band Darlin' he formed with Thomas Bangalter and Guy-Manuel de Homem-Christo (who together became Daft Punk).
The group got their touring start on the French bar circuit doing Hank Williams and Prince covers. Two years later the band took on the name Phoenix and pressed 500 copies of a single on their own label, Ghettoblaster. Shortly after, they were signed to the Paris-based Source Records. Phoenix became well acquainted with labelmates Air when they acted as their backing band on several U.K. TV appearances.
Soon afterwards, Phoenix released their 2000 debut album United. This was followed by Alphabetical (2004), Live! Thirty Days Ago (2005), It's Never Been Like That (2006), and most recently the critically acclaimed Wolfgang Amadeus Phoenix (2009).
In early 2009, it was announced that the band was returning with a new album titled Wolfgang Amadeus Phoenix, which was released on May 25, 2009. The album was recorded in Paris by Cassius's Philippe Zdar who co-produced and mixed the album.
In January 2010 Wolfgang Amadeus Phoenix won the Grammy Award for Best Alternative Music Album. Shortly afterwards, "1901" peaked at #1 on the Billboard Hot Alternative Songs chart. Phoenix performed at the Coachella Music Festival 2010, the 2010 Bonnaroo Music Festival, the 2010 Lollapalooza Music Festival, and the Outside Lands Music and Arts Festival in San Francisco.