Unfortunately, this event's been postponed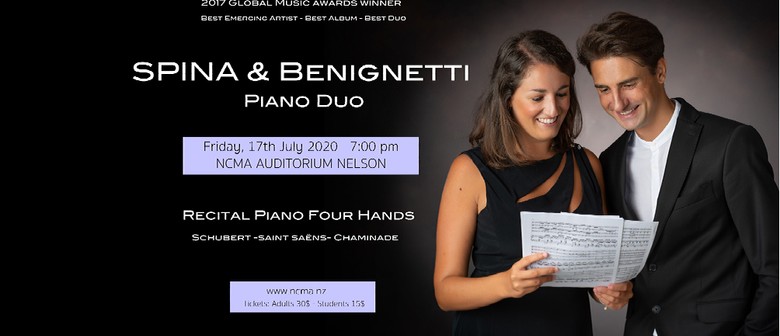 The Italian Piano Duo Spina & Benignetti is one of the most talented and acclaimed piano duo in Europe. Their album "Lifetime" including works of Mozart, Rachmaninov and Barber won the Gold Medal as Best Duo, Best Emerging Artist and Best Album at the 2017 Global Music Awards in USA.
Coming from a strong musical lineage with backgrounds as soloist and chamber musicians, the duo have appeared as soloists in orchestras across Italy, France and The Netherlands. The duo performs regularly throughout Europe, and they have also toured across South Africa, Asia, Australia and the USA. 2019 has been one of their busiest years to date, with over 50 concerts played in just 6 months.
The piano duo are Official Yamaha Artists and have been proudly sponsored by them since December 2017.
For their debut at NCMA they present a beautiful programme dedicated to works for piano duet. In the first part they will play two major works of Franz Schubert: the Fantasia in f minor D940 and the Eight Variations on an Original Theme D813. The second part of the recital will celebrate the French's music including pieces of Camille Saint-Saëns, Cecile Chaminade, Francis Poulenc.
A merchant fee may be charged on credit and debit card transactions.
Cash and eftpos available for door sales at Nelson Centre of Musical Arts from 9am – 5pm, Monday to Friday. Tickets also available through all Ticket Rocket outlets (Theatre Royal Nelson, Richmond Mall, Nelson, Motueka and Blemheim i-SITE etc.).
Please contact Nelson Centre of Musical Arts if you require wheelchair seating on 03 548 9477 or music@ncma.nz.