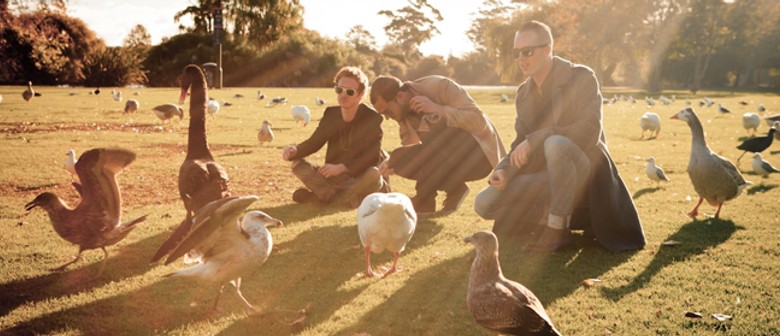 Hailing from Auckland, Coach comprises the talents of Abraham Kunin (guitar/lead vocal), Jonathan Burgess (upright bass) and Todd Beeby (drum kit). The culmination of their work together as a trio, their debut album Family Tree (2012) expands upon their acclaimed 2010 E.P. The album is a sophisticated and refined collection that strikes the listener immediately with its depth, cohesiveness and kaleidoscopic emotion.
The first single, 'I Have Two Shadows' is a sunny blend of electric guitar and undulating falsetto marking the romantic backdrop of a track reminiscent of Beach House or the Smiths, with a bass line groove that takes this song somewhere more akin to the trip-hop beats of Portishead. Abe Kunin's vocal has a husky sensuousness that lends itself to the summery yearning of the single.
The album's strong vocal colours are lifted even further by the smoky tones of Tamara Rickett on 'Roulette Wheel'. Double bass provides a unique warmth to the brooding tone, while drum grooves keep a solid soulfulness throughout.
Produced and recorded by Tom Anderson in Auckland between Thinkt Studios and Deathstar Studios, the rhythm tracks were recorded live to capture the chemistry of this tight-knit trio. With additional percussion, guitars and vibraphone added later in multiple strands, the songs become dense and lush beds of dreamy texture upon which the dark melodies and haunting vocal harmonies float. There are elements of Trinity Roots, My Bloody Valentine and Marcy Playground at work, but the sound is wholly their own.
Source and image: Facebook