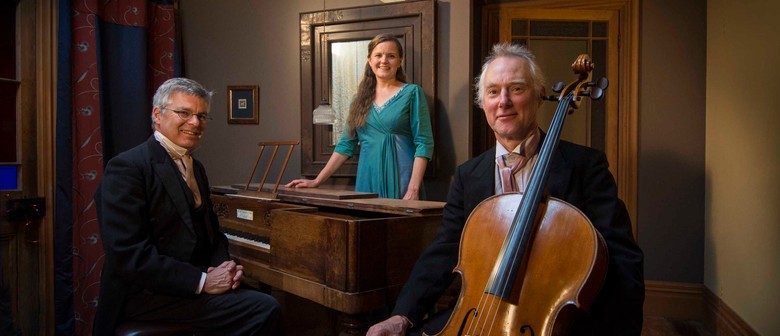 Websites
Hammers & Horsehair is a square piano and cello duo formed by Douglas Mews and Robert Ibell in 2015. Their goal is to introduce New Zealanders to the experience of early nineteenth century European classical music played on period instruments in an intimate setting. In 2016 they made a very successful concert tour of 20 centres around New Zealand. For their 2018 tour they are joined by soprano Rowena Simpson for a programme of Bohemian and German Romantic music.
Robert Ibell was born in Dannevirke and brought up in Palmerston North. While training there as a school teacher he learned cello from Judith Hyatt in Wellington. From 1986 to 1992 Robert lived in London, studying cello with Tania Hunt, Derek Simpson and Christopher Bunting. He played at music schools and in masterclasses, taught, gave recitals and played in professional and amateur orchestras. Since 1993 Robert has been a member of the NZSO. He is also an experienced chamber musician, touring regularly for Chamber Music NZ. Robert has been a member of the Aroha Quartet since 2009. He also plays in contemporary music group Stroma New Music Ensemble and is a Recording Artist for Radio NZ Concert.
Douglas Mews studied organ and harpsichord with the late Anthony Jennings at Auckland University (New Zealand) followed by harpsichord studies with Bob van Asperen at the Royal Conservatory in the Hague. He is now a freelance musician, teaching at the New Zealand School of Music in Wellington and directing the music at St Teresa's Catholic Church. In January 2018 he performed on nineteenth century organs at the 'Organs of the Ballarat Goldfields Festival' In these concerts Douglas will perform on a square piano made by Broadwood in 1843, brought from the Shetland Islands to Wellington in the 1870s by Robert Tait.
Rowena Simpson grew up in Wellington, Hamilton and London and began her performing career as a cellist, chorister and dancer. She studied singing with German soprano Rosemary Gordon and graduated with degrees in musicology and linguistics from Victoria University before leaving for The Netherlands in 1997, where she studied singing and historical performance practice at the Royal Conservatoire. While based in Europe, she performed with professional chamber ensembles and was a soloist in the baroque and classical repertoires. Since returning to NZ in 2006, Rowena has developed a freelance career in chamber music and opera, performing for many organisations including Chamber Music NZ, Stroma New Music Ensemble, NZ Barok, CBS Music Trust, Pinchgut Opera (Sydney), Days Bay Opera and as a member of the NZ Opera chorus.
Photo: Alexander Garside
Past events by Hammers & Horsehair