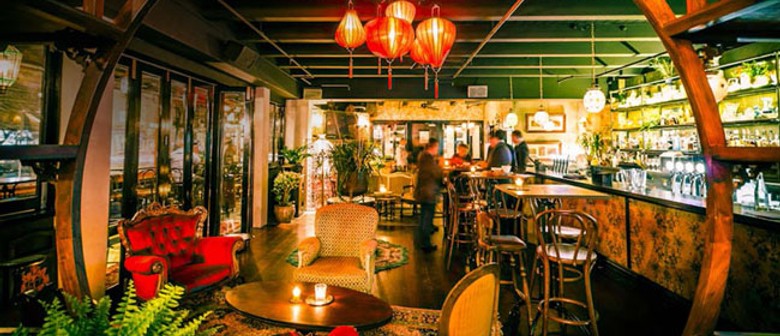 Phone
Websites
Hours Open
Tuesday:

3pm–3am

Wednesday:

3pm–3am

Thursday:

3pm–3am

Closed on Public Holidays
Revelry put simply is East meets West. Chic & bohemian of the most divine combination. Comfy and unpretentious yet sexy and intimate - the balance is beautiful. Join the casually fashionable crowd, partial to specialty cocktails or sample the International wine list. The delicious menu includes a selection of Tapas, Sharing Platters & "Chopping Blocks" which serve from whole chickens and juicy steaks to fresh market fish. Open from 4pm till late Tuesday to Thursday and from Brunch till late Friday to Sunday. Centrally located at 106 Ponsonby Road, Revelry promises to become your new favourite corner establishment in the area.

The exciting and brand new bar of Ponsonby, Revelry will officially opens its doors this Friday 22nd June from 5pm. Thus providing the people of Ponsonby with an exciting new stylish Cocktail Lounge, Wine Bar & Eatery.

A typical night at Revelry will denote exactly as its name sake suggests an experience of unrestrained boisterous merry-making. At the entrance you will be greeted by a sprawling lounge, furnished with ornate parlor chairs, chaises & regal yet comfortable velvet couches. Intimate nooks and candlelit cocktail tables are nestled amongst the beautiful fireplace.

Owners Jason Rosen & Benjamin Taylor have a wealth of hospitality experience between them. Friends for many years Jason has travelled Europe extensively bringing home with him the Inspiration behind Revelry's divine decor & theme. Benjamin is an iconic Auckland Bar Manager with an extensive portfolio of successful bars behind him. The combination is synonymous with success as these boys truly know how to do things.