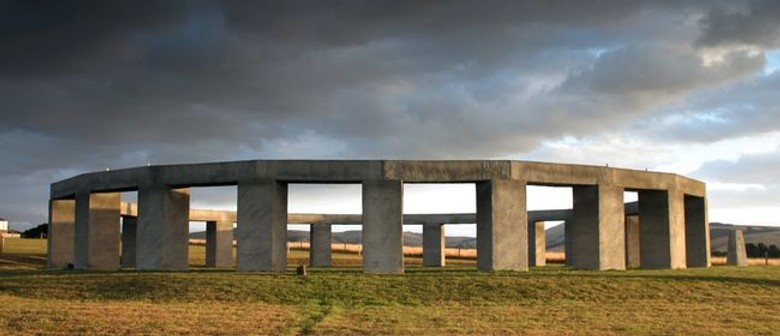 Hours Open
Wednesday:

10am–4pm

Thursday:

10am–4pm

Friday:

10am–4pm

New Year's Eve:

10am–4pm

New Year's Day:

10am–4pm

Day after New Year's Day:

10am–4pm
Amenities
Carpark
Toilets
Guided Tours Available
Gift Shop
Ticket Information
Trek Around The Stones (Adult):

$15.00

Trek Around The Stones (Senior):

$10.00

Trek Around The Stones (Child):

$5.00

Additional fees may apply
Stonehenge Aotearoa is a modern adaptation of the Stonehenge ruins on the Salisbury Plain of England. The henge contains 24 pillars and is 30m in diameter and about 4m high. The pillars are capped with lintels, completing the circle, and a 5m-tall obelisk marks the centre of the henge. Private tours such as Daytime guided tours of the henge, Sunset Tours, and Star Trek tours of the night sky must be arranged in advance. Contact nzstarlore@gmail.com
The modern henge was designed to demonstrate how ancient peoples used such constructions to understand astronomy. When viewed from the centre, the stones mark the daily rising and setting positions of the sun. The stone circle also forms a Polynesian star compass, showing the bearings taken by Polynesian seafarers travelling to and from New Zealand.
To discover the secrets of Stonehenge Aotearoa and other stone circles we recommend that you book into one of our guided tours which provides a complete experience and is tailored to weather conditions. Our tours include tales from antiquity of the solstices, equinoxes and signs of the zodiac. You will discover how stones, posts and shadows were used to unlock mysteries of the earth and sky which formed a cornerstone to the rise of civilization.
Stones treks - self-guided tours are available most days (excluding weddings, ceremonies etc) and run for 75 minutes. See webpage for opening hours.
A number of special presentations and events are held throughout the year including celebrations of solstices, equinoxes and Matariki.
We are always open on weekends and public holidays other than 24-27 Dec. Other days open are seasonal, so please check our webpage for the current information. Generally, summer is 7 days a week, Autumn and Spring, 5 days a week and mid-winter weekends only. We open for most school holidays and public holidays.
Past events at Stonehenge Aotearoa
Post a comment
Stonehenge Aotearoa during and after the recent snowfall