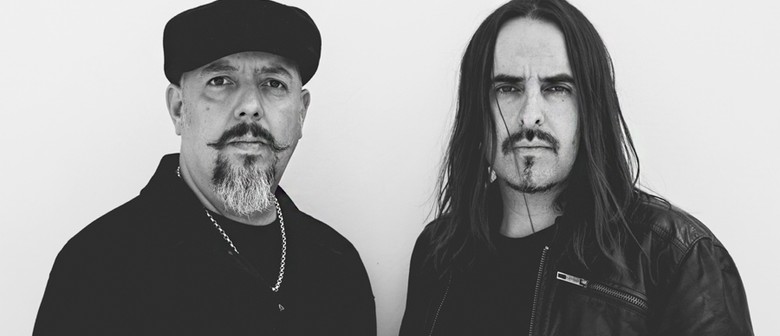 Website
Tooled up with an arsenal of drums, guitar, synth bass and loop pedals, Cairo Knife Fight pack a riff-driven punch that has seen them hold their own against the title holders they've shared stages with – names like Foo Fighters, Them Crooked Vultures and Queens of the Stone Age.
The collective back-story of drummer/main vocalist Nick Gaffaney and guitarist/loop guru Aaron Tokona reads like a brag sheet of some of New Zealand's finest musicians including Anika Moa, Fat Freddy's Drop and Dimmer, as well as Tokona's own former contenders, rock outfit Weta. It's as a duo however that they've blazed their very own trail, finding new ground between the power of Led Zeppelin and the fearlessness of Radiohead.
As rock's odd couple, Cairo Knife Fight make for an unhinged live proposition. By his own admission, Tokona is "emotional and mentally perturbed" while his band mate Gaffaney is "solid and mentally sound", and it's a dynamic reflected in their unhinged, seat of-the-pants performances. Tokona says it was a booze-soaked jam session at a Wellington bar that brought their unlikely partnership together and set the blueprint for what was to come.
Following the release of last year's self-titled EP plus an opportunity to kick out their jams at New York City's CMJ Music Festival, the duo returned to Auckland's Rou­ndhead Studios in May to again work magic from a space that has captured the sound of much bigger bands. Cairo Knife Fight had little trouble filling up the channels of Roundhead's Neve desk, the console custom-built for The Who that has put albums like Meat Loaf's Bat Out of Hell and Jeff Buckley's Grace to tape.
They returned from the sessions with II, a brand new EP that bottles their supercharged sound on four blistering cuts. As a first look on what's to come, II's first single "The Origin Of Slaves" rings out like a warning shot, all drum loops of death and buzz saw guitars sauced with slithering falsetto.
"The first EP was just a taste," says Tokona. "This one sounds like we are on our way somewhere – we're taking more risks and we are way more fearless." With II set to drop Monday 15th August on Liberation Music, this year will be a big one for the Christchurch-based duo. First up there's a nationwide tour with Head Like A Hole, plans for a brand new long player are in the works, and return tours of the US and Australia are in the pipeline.
- text and images courtesy www.cairoknifefight.com
Post a comment
NICE DAY (missarmila23@hotmail.com) My name is Miss Armela, I pray that this letter meets you well,though we never meet or seen each other before, but I believe that nature has a way of bringing people together for specific purposes.(missarmila23@hotmail.com) If you need a friend Email me back