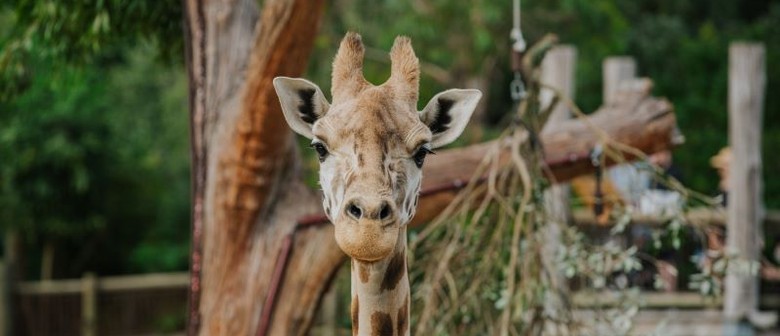 Phone
Websites
Hours Open
Weekdays:

9:30am–5:30pm

Weekends:

9:30am–5:30pm

Closed on Public Holidays
Amenities
Carpark
Food Available
Gift Shop
Guided Tours Available
Playground
Toilets
Wheelchair Access
Qualmark
Ticket Information
NZ Family pass 2 (2 adults, 2 children):

$65.00

NZ Family pass 1 (1 adult, 2 children):

$45.00

NZ Adults (15years+):

$24.00

NZ Student & senior (ID required):

$19.00

NZ Children (4 - 14 years):

$13.00

NZ Additional children (added to either family pass) per child:

$10.00

Infants (under 4):

$0.00

Additional fees may apply
Auckland Zoo is home to the largest collection of native and exotic animals in New Zealand, set in 17 hectares of lush parkland and just minutes from central Auckland.
There is lots to see and do all year, including events, animal encounters, behind-the-scenes experiences and more!
Auckland Zoo plays a key role in many breeding recovery programmes for threatened and endangered native species. Through its Conservation Fund, the Zoo supports field-based conservation projects, locally and overseas.
During summer (1 September to 30 April), Auckland Zoo is open every day from 9.30am to 5.30pm (except Christmas Day), with last admissions into the Zoo at 4.30pm. During winter (1 May to 31 August), hours are 9.30am - 4.30pm, with last admissions into the Zoo at 3.30pm.
The current tracks open to explore include:
Africa Safari Track - Enjoy a mini safari as you explore the Zoo's African precinct - a place where you can immerse yourself in the sights, sounds and smells of Africa.
Living Realm - Te Wao Nui - Discover New Zealand's natural treasures all in one place – at Auckland Zoo's Te Wao Nui! See the iconic kiwi, cheeky kea, prehistoric tuatara and more!
South America Rainforest Track- Enter the lush tranquility of a rainforest, where monkeys swing just an arm's length away.
Australia Bush Track- See emu, wallabies, Australian birds and Tasmanian devils as you stroll through the Aussie Walkabout and Tasmania.
South East Asia Jungle Track - immerse yourself in the swamp forest with 100s of plants, fish and two Sunga Gharials. Orangutans and Siamangs swing above in the High Canopy and Otters and Tigers can be spotted in the Lowlands.
New Zealand Centre for Conservation Medicine (NZCCM) - Look in to the laboratory, treatment room and operating theatre, and see Auckland Zoo's vet team in action
Auckland Zoo is a not-for-profit and every visit helps make our conservation efforts possible.
Past events at Auckland Zoo