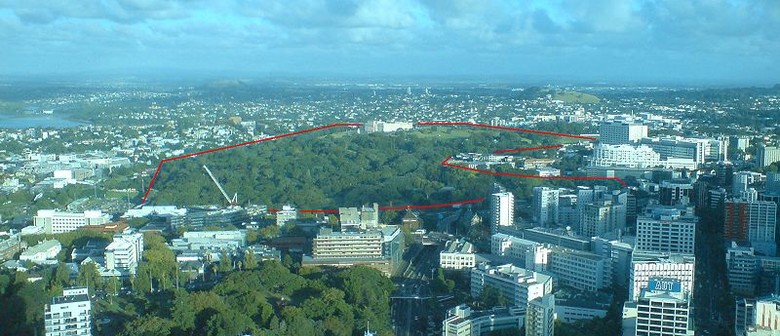 Website
The Auckland Domain is the city's oldest park and is spacious and diverse. The 75 hectare park has been developed around the cone of an extinct volcano. The 'tuff rings' created by volcanic activity thousands of years ago can be seen in the land contours and forms a natural amphitheatre with about 10 hectares developed as first-class sports fields.
The park has the classic charm of formal gardens, green clearings edged by mature trees and an impressive statuary. Most pieces are in the formal gardens, including one of the most striking - a large free-form reflecting pool with three bronze sculptures. The central, male figure represents Auckland and the two females offer wisdom and 'fertility of the soil'.
Paths wind through native bush at its perimeter. Closer in, duck ponds mark the up-welling of the Domain's natural springs, and century-old trees shade numerous picnic spots. In summer heat, manicured playing fields sustain the city's oldest cricket traditions, while winter brings the vigour of rugby, league, and soccer.
Several of the outstanding trees in the lawn arboretum were seedlings from a nursery set up in the Domain in 1841 to grow and distribute European plants and trees to the whole of the city. Today, the nursery supplies plants for displays in the Winter Garden, and city parks.
Auckland Domain hosts sculptural works by some of NZ's leading artists. Stroll around the 8 large works, each very different from the others, demonstrating the diversity in NZ art. The eight artists are Chiara Corbelletto, John Edgar, Charlotte Fisher, Fred Graham, Christine Hellyar, Neil Miller, Louise Purvis and Greer Twiss.
A self-guided walking tour in the Domain taking in the sculptures is available on request from the Information Desk in the Auckland Museum foyer.