Featherston Booktown Karukatea Festival 2022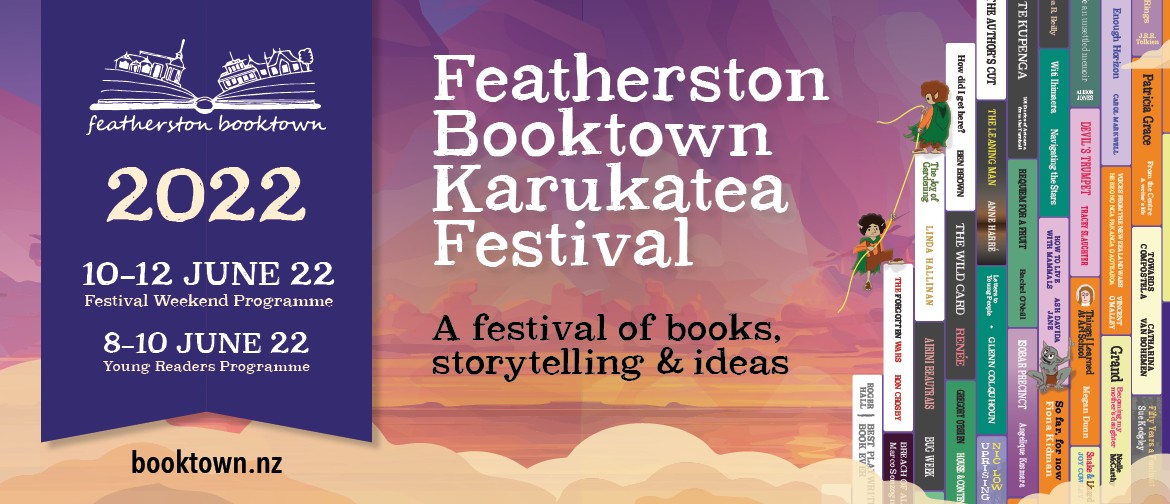 With a line-up of more than one hundred presenters and fifty events, Featherston, New Zealand's only Booktown, is getting ready to welcome over 7,000 visitors to the Wairarapa for another outstanding literary weekend over 8-12 June.
Featherston Booktown is Aotearoa New Zealand's most intense and welcoming celebration of the artefact of the book – writing them, designing them, publishing them, illustrating them, printing them, and selling them. Booklovers come from all over the country to experience the wonder and expanding power of books and writers. The whole town of Featherston becomes the venue for the Festival and the entire community welcomes our presenters and writers and makes them feel at home.
The seventh Featherston Booktown Karukatea 2022 Festival kicks off on Friday 10 June with the now famous Fish'n'Chip supper - with guest speaker the acclaimed writer, Witi Ihimaera. The rest of the weekend will be filled with stellar writers and literary entertainment, starting with Late Nite Lit's singing sensation Moana Leota and her band putting poetry to music. Brains will buzz all weekend with talks by literary heavyweights, including Dame Fiona Kidman, Patricia Grace, Owen Marshall, Victor Rodger, Roger Hall, Joy Cowley and Selina Tusitala Marsh. There will be red-hot poetry readings, a celebration of Asian-Kiwi writers, political autobiographies, horror stories in a historic hotel, award-winning children's book illustrators, and discussions on honest and bold memoirs like Megan Dunn's What I Learned At Art School, and Noelle McCarthy'sGrand.
A highlight will be a tribute to the legendary writers – Witi Ihimaera, Selina Tusitala Marsh, Owen Marshall, Joy Cowley, Renée and Ben Brown – who have delivered the Read NZ Te Pou Muramura (formerly the New Zealand Book Council) Lecture/Pānui on Saturday evening 11 June. There will also be a strong focus on the Lord of the Rings trilogy twenty years on from the first New Zealand screenings of the Peter Jackson directed films, including a Lord of the Rings quiz.