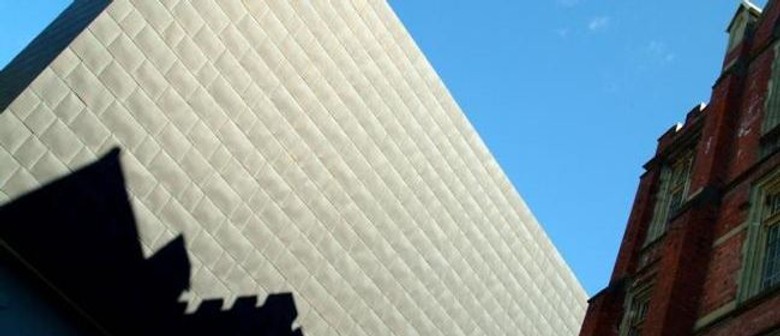 Phone
Hours Open
Tuesday:

11am–5pm

Wednesday:

11am–5pm

Thursday:

11am–5pm

Closed on Public Holidays
The Adam Art Gallery Te Pātaka Toi is the purpose-built gallery of Victoria University of Wellington. The Gallery is a forum for critical thinking about art and its histories as well as the professional structure within which the Victoria University Art Collection is managed.
It has built a considerable reputation for its exhibitions and public programmes that foster new work across a range of media, that test and extend disciplinary boundaries, and which actively set out to generate debate with a view to expanding discourse and producing new knowledge.
The Gallery is a remarkable architectural statement that is a vital element of the university experience and a major force in the artistic life of Wellington city and beyond.
The Victoria University of Wellington Art Collection was initiated by university staff in 1947, who voted to set aside funds to enable original works of New Zealand art to be purchased and hung in the University common room, the Victoria University of Wellington Art Collection has grown to become a nationally significant collection of modern and contemporary New Zealand art. This is now managed by the Adam Art Gallery, which works with the Victoria University of Wellington Art Collection Trust to care for and develop the Collection for the benefit of staff, students and the wider public.
Numbering more than 450 items it now comprises the Victoria University of Wellington Art Collection, the Staff Club Collection, the Hall Collection and the Wellington College of Education Collection. It consists of paintings, sculptures, photographs and works on paper that are displayed in the public spaces of all four campuses.
Key artists in the collection include: Mark Adams, Don Binney, Julian Dashper, Don Driver, Jacqueline Fahey, Brett Graham, Fred Graham, Louise Henderson, Frances Hodgkins, Ralph Hotere, Emily Karaka, Colin McCahon, Niki Hastings McFall, Evelyn Page, Fiona Pardington, John Reynolds, Michael Smither, Yuk King Tan, Gordon Walters, John Weeks, and M.T. Woollaston, amongst others.