Air Force Museum of New Zealand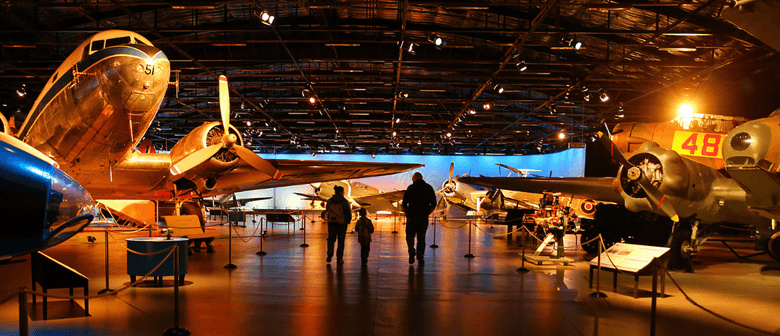 Phone
Hours Open
Weekdays:

9:30am–4:30pm

Weekends:

9:30am–4:30pm

Closed on Public Holidays
Amenities
Carpark
Wheelchair Access
Toilets
Qualmark
Food Available
Guided Tours Available
Gift Shop
You don't have to be an aviation enthusiast to visit the Air Force Museum of New Zealand. It's true that the historic aircraft on display are stunning in their own right, but what truly engages many are the personal stories and artefacts of the 'people behind the planes' - the men and women who have helped shape New Zealand's military aviation journey.
There are also plenty of opportunities to immerse yourself in the Air Force Museum experience. Climb inside a jet cockpit or scale replica C-130 Hercules cabin, while exploring the diverse collection at your own pace. If you're visiting with kids, pick up a Museum Hunt from the Welcome Desk - they're a great way for families to explore the Museum together. Don't miss the 'Captured' exhibition, which explores the story of Kiwi airmen captured and imprisoned in enemy-occupied Europe during World War Two. This interactive space will engage visitors of all ages - make sure you bring your camera to take your own Prisoner of War (POW) mug shot!
To get the most out of your visit, take one of the free guided tours to learn more about the Museum's work 'behind the scenes' and discover the additional aircraft, vehicles and engines in the reserve collection. Finally, no visit would be complete without taking a flight in the "Mosquito Mission" simulator. Get your ticket from the Welcome Desk and take the controls on one of two thrilling mission options.
Price: FREE Admission - activity charges may apply
Opening Hours: Daily (except Christmas Day), 9.30am - 4.30pm.
Past events at Air Force Museum of New Zealand
Post a comment
Hello On thrusday i came out and saw the wonderful Anne Franks Dairy it was just so very moving thank yours also so very much next time i come out i will be bring my husband to see the wonderful Air Force Museum once again thank yours all it was a great pleasure working in their and the wonderful thing that yours have out their My late dad was in the Air force many years ago but i dont know what sqaure he was in is their anyway that i could find out this please? Kind regards Maryann Dance